Irina Palm
(2008)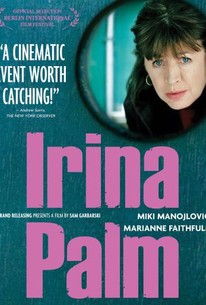 TOMATOMETER
AUDIENCE SCORE
Critic Consensus: A strong performance from Faithfull anchors this perverse and lethargic -- but ultimately thought-provoking -- Garbarski drama.
Movie Info
A 50-year-old widow is so desperately in need of money that she unwittingly accepts a job in a sex club.
News & Interviews for Irina Palm
Critic Reviews for Irina Palm
Audience Reviews for Irina Palm
Irina Palm is a perverse tale of the odd sacrifice of a desperate grandmother for her terminally-ill grandson. Grace amid shame. Genuinely sentimental. Well-delivered.
Jan Marc Macababayao
Super Reviewer
Delightful, infuriating, improbable, laugh out loud funny, and a surprisingly entertaining tale of a woman who finds herself out of her depth and working in the sex trades. Her transformation from a quiet little mouse afraid to ask for a job to a force to be reckoned with is what made the film for this viewer. Maggie (Maryanne Faithfull) is marvelous as the small-town grandmother who becomes a sensation at the club where she works. A competent supporting cast and a certain dark atmosphere contribute to the film's success as a morality tale that is at times laugh out loud funny.
Mark Abell
Super Reviewer
½
[font=Century Gothic]"Irina Palm" starts with Maggie(Marianne Faithfull) bringing a giant stuffed lion to her grandson Ollie(Corey Burke) in the hospital. After almost all hope has been extinguished, news comes to his parents(Kevin Bishop & Siobhan Hewlett) of a new treatment in Australia that is free of charge but they do not have the money to pay for airfare. Maggie would help but has no money left herself and attempts at getting a loan or a job prove initially fruitless. When she applies for a job as a hostess, she is informed by the manager Miki(Miki Manojlovic) that it is a euphemism for masturbating the male customers through a hole in the wall. Miki, noticing her smooth hands, thinks she has promise. At first shocked, Maggie needs the money which is good too badly and takes the job to be trained by Luisa(Dorka Gryllus).[/font] [font=Century Gothic]"Irina Palm" succeeds in no small measure due to the superb performances by the leads.(I had forgotten how good an actor Miki Manojlovic really is.) Otherwise, the movie starts awfully and has its share of awkward moments but due to a general avoidance of genre cliches and the provocativness of the material, it becomes something quite sublime, even while never forgetting that there is a sick child at its heart. Any sentimentality is quashed by concentrating on the life of a sex worker, reinforcing the point made in "Live Nude Girls Unite!" that it is neither exploitation or empowering(a little shows through, though), just boring. Luisa's advice to Maggie is to separate her personal from her professional life. For a second I am not going to do that. Because as strange as it may sound, the men at the hole are seeking a kind of intimacy, fantasizing about someone who is very different from who is really helping them get off, a maternal figure who is embracing them at their most exposed. But what a mother really does is care for her own, no matter what it takes.[/font]
Irina Palm Quotes
There are no approved quotes yet for this movie.