Ip Man 3
(2016)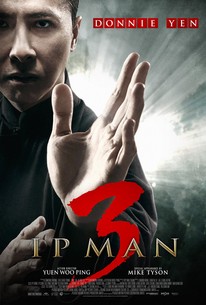 TOMATOMETER
AUDIENCE SCORE
Critic Consensus: Ip Man 3 isn't the most tightly plotted biopic a kung fu fan could ask for, but the fight scenes are fun to watch -- and at times, the drama is even genuinely poignant.
Movie Info
Master Ip (Donnie Yen) is called upon again to protect his city from ruthless gangster bent on taking control of the metropolis. Mike Tyson co-stars in this action drama.
News & Interviews for Ip Man 3
Critic Reviews for Ip Man 3
Audience Reviews for Ip Man 3
½
I have vastly enjoyed all of Donnie Yen's version of IP Man - and the 3rd and final installment is no exception. In fact I think they saved the very last for the very best and director Wilson Yip and Yen combined to make IP Man 3 the very best of the series. While the first focused on the introduction of IP man, his loving wife Cheung Wing Sing ( portrayed Lynn Hung) his extraordinary Wing Chun skills, his students, the foreign Japanese suppression and the 2nd IP man film focused on opposing martial schools, gangs and a different foreign suppression, this 3rd IP Man features a legendary boxing icon, (Tyson) bouts with Tai boxing and an exciting Wing Chun vs Wing Chun (featuring Zhang Jin) finale that was simply awesome. The plot of fighting to save a school vs opposing foreign bullies and gangs was simple, and it once again featured IP Man singlehandedly overpowering an entire group of vicious hoodlums (in shipyard) as was also featured in the previous IP Man films, but that isn't close to highlighting the tale of the tape with IP Man 3. It even featured a brief cameo young teen portrayal of late martial arts icon Bruce Lee ( portrayed by actor Kwon-Kwan Chan) Both the music background score and Camera work was simply brilliant - even in one top fight scene with the Thai boxer, you get to see the fight from a birds' eye view, while that inspirational musical background score played on. Another one of those scenes that made me feel like " Wow" Mike Tyson scenes were enjoyable, not only because I am such a strong fan of him, but seeing his famed powerful style of fighting ,stance/crouching bobbing & weaving being engaged with Wing Chun fighting was a sight to see, with IP Man able to imploy kicking , grappling and eye-gauging attacks to yet another highly powerful and skilled American style boxer in such a very brief time. Of course Tyson's acting role is pretty simple and I didn't expect anything different than the villainous smirk and hulking punches- I got exactly what I wanted from him which also includes the idea of involving him into the I man film. I never would have thought I would have had the joy and pleasure of seeing him in this film. I thought IP man 3 was a more well-paced, added more intriguing various fighting styles (vs boxing,.. vs Thai boxing... vs wing chun) than the other IP man films , and it also featured a very well put together love/crisis moments between I Man and his beloved terminally ill wife Cheung Wing Sing. We saw how emotionally torn she was between the dangers her husband has to endure, the safety of their son, the enjoyable moments the couple continue to put together, and sudden crisis they have to fight and cope with the deadly disease once it was discovered. Even seeing IP Man breaking down, these heart gripping , emotional moments brought some of the most moving moments. The sign-off memorial and passing of Cheung Wing Sing at the end was heart-breaking and touching. You don't generally get something like that in a martial arts action film not anything I have seen/felt since (probably since Crouching Tiger/Hidden Dragon) And again an even another good music score spot for that memorable moment. We could see the final Wing Chun battle predictably coming, but the cinematography and choreography that was applied and involved was simply breath taking. And it was crystal clear, clean and very easy and enjoyable to view, none of the shaky-jumpy camera we tend to see in too many action fighting scenes, And it involved several ways of fighting and engaging - from fighting pole stick,... to hand blades,.. to finally hand to hand combat. - which also the famous Bruce Lee one-inch strike included. The speed, the pace, the adrenaline of the IP Man/Cheung Tin-Chi fight brought high and low blocking, striking, twisting, kicking, joint locking, elusiveness, stances to combined with the lighting and sound effects and rolling camera shots all working so well that became jaw-dropping inspirational and to behold. Yet once again, I was left saying ' Wow". It was truly awesome and something to see if you enjoyed the best of martial arts fighting This is something special to me that I tend to re-watch over and over, again and again. Considering the characters, the styles, the camera work, the stunts & fighting choreography , the special guest appearances, the heart-throb crisis with IP Man/Cheung Wing Sing IP Man 3 will forever be a masterpiece cult classic and a legend within itself. So brilliantly done. What a terrific way to end an extraordinary series. On a scale of 1 to 10, I'd give IP Man 3 an 9.0
½
What I am appreciative of is Donnie Yen seems to be the only mainstream kung fu actor working right now in a genre that hasn't quite been the same since Jet Li and Jackie Chan stopped making martial arts movies. So in that respect, anytime we get some authentic hand-to-hand combat, I am ecstatic. The Ip Man/Grandmaster franchise has been a solid group of installments for the Kung-Fu genre. So having said that, because we only get so few of these whether it's because we don't have the kind of actors for it or public want for them as much as in the past, there is some trade off with suffering through the simplistic story to reach those beautiful choreographed fight scenes. Yen is a terrific actor. We've seen him grow with this Ip Man character over almost a decade, yet I feel like we haven't actually seen him act as much as we've seen him fight. I get that sometimes it's supposed to be a bit silly. The addition of Mike Tyson, though fantastic both because it's Mike Tyson and their clashing fighting styles coming off splendidly on screen, is an easy target for the absurdity. But there never ends up being a satisfying resolution to the overall bad-guy problem presented other than them mutually parting ways? The entire movie would have been better serviced focusing on Ip Man and the opposing fighter played by Max Zheng. But all problems aside with the plot, Ip Man continues to act as a launching pad for the fight scenes and the style made famous by Bruce Lee in his prime. The rumble of the fists are a delight to hear and see again. Mostly all the set pieces come off as fantastic, some better than others. I'm not so sure we receive another Ip Man, but if we do, I hope they continue to retrace the story of how Bruce Lee came to be. It only means we continue to get true Kung-Fu action movies for the foreseeable future.
Lane Zieben
Super Reviewer
The action sequences continue to grow more unique with Ip Man 3. Donnie Yen's performance is graceful and even more aggressive in this installment as the film offers a satisfying entry despite its somewhat vague narrative. 4/5
Eugene Bernabe
Super Reviewer
Ip Man 3 Quotes
There are no approved quotes yet for this movie.