Intruders
(2012)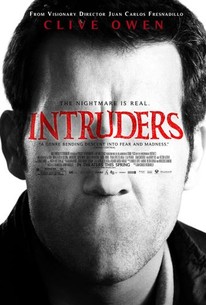 Movie Info
Intruders tells parallel stories of two families whose lives are disrupted by menacing apparitions: in Spain, a mother tries to protect her son from a faceless stranger, while in Britain, a young girl has terrifying dreams of a demon who becomes a real danger to her and her family. -- (C) Universal
News & Interviews for Intruders
Critic Reviews for Intruders
Audience Reviews for Intruders
½
Clumsy and confusing. I had no idea what the hell was going on most of the time. The constant switching between characters that were barely related to each other really threw me off too.
Stephen Skudlarek
Super Reviewer
A movie with an interesting concept that is undone by its stupidly idiotic twist in its last act. It's the type of twist where you are absolutely required to pretend that everything happened previously isn't important or relevant. And that's really the worst type of twist, because it's just done just for the sake of it and not because it actually makes sense in the context of the story you're telling. I don't wanna say it was unexpected but I would say that I wasn't actually expecting them to do this twist because it would just be so utterly stupid and it would make everything you just watched prior to it unimportant. I'm gonna spoil it because I don't really care. The movie basically tells two parallel stories. One is of a Spanish boy who is being haunted by a faceless monster and his mother's attempt to protect him from it. The second is of a girl who's being haunted by a "demon" after she finds a story another person wrote describing a monster named Hollowface and this "demon" puts her and her family in danger. It turns out that the boy from Spain was actually Clive Owen's character and he was the one who left the story that his daughter found in the tree. Basically everything that John wrote in his story actually did happen, except that it was his father. As he writes this story, as a child, his father becomes a monster and, I suppose, that was to help him cope with what happened. That's all fine and dandy, it's actually a good idea in theory. The problem then comes in when John's daughter starts to see, and in some cases even NAME, the monster that he created, why he wouldn't just put two and two together? And some apologists might say that he was so traumatized by his experience that he then 'forgot' it. Which would be fine, if he didn't write the fucking story in the first place. If you just want to forget about and put it as far away from your mind as possible, would you write a story? So I think that's really a bullshit excuse, and it sure as shit requires a lot of reaching for straws to come up with that excuse for why John wouldn't, instantly, know that his daughter read the story he wrote. It's a twist that requires you to completely forget what you've just seen and it was absolutely terrible. One of the worst twists I've ever seen really. And that's not to say the movie was good prior to that, it had an intriguing set-up but everything after the girl starts being haunted by Hollowface is typical horror cliches. And it's not even really that scary, I can probably count on one hand the number of halfway decent scares this movie had, so it makes watching particularly tedious. A horror movie without decent scares is bad enough, but if there was at least some unintentional comedy it could make things easier to sit through. Nope, there's no unintentional comedy either, it's just a bad movie with a terrible twist. Yep, this is just no good and I can't really recommend it. There's just nothing that's really redeemable about this movie.
Jesse Ortega
Super Reviewer
One of those movies that started out with a lot of promise, but by the end I was like "huh?". Too bad, as par for the course for most horror films these days...
Cynthia S.
Super Reviewer
Intruders Quotes
There are no approved quotes yet for this movie.