Into the Storm
(2008)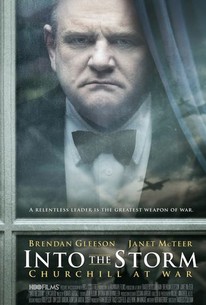 AUDIENCE SCORE
Critic Consensus: No consensus yet.
Movie Info
A sequel to HBO's award-winning film The Gathering Storm, Thaddeus O'Sullivan's Into the Storm stars Brendan Gleeson as the intrepid British leader whose fiery rhetoric inspired Allied forces to fight back against Hitler's Germany to with everything they've got. As the flames of war spread throughout Europe, Winston Churchill rose to the call and became a national hero, disregarding the detrimental effects his actions had on both his political career and his marriage to lifelong supporter Clemmie (Janet McTeer) in a single-minded effort to defeat one of history's greatest tyrants.
Critic Reviews for Into the Storm
All Critics (1) | Fresh (1) | Rotten (0)
Brendan Gleeson's force of personality dominates the proceedings. As a historic document, however, the film leaves a lot to be desired.
Audience Reviews for Into the Storm
½
Into the Storm is a fascinating biopic about the great Winston Churchill. This is a sequel to The Gathering Storm that tells the story of Churchill's years as war time prime minister. The film's power lies in the performance of Brendan Gleason who is absolutely stunning in the role of Winston Churchill. I thought he nailed his performance and in turn he sounded, looked like Churchill. The film is a terrific piece of cinema and it should be seen by history buffs everywhere as well as viewers who enjoy a well crafted biopic. The direction by Thaddeus O'Sullivan is immaculate and crafts a stunning picture with an effective plot and wonderful performances. Winston Churchill was one of the most important figures of the 20th century. His tenacity and audacity in the face of invasion by German Forces made him a symbol. This film brings that to light. Gleeson is a superb choice to play Winston Churchill. I've always enjoyed him in films, but with this role, he really shines. I think this was the role he was meant to play. This ranks as one of his best performances. Into the Storm is a terrific biopic and with the help of a great cast, it redefines what a biopic can be. The film is at times slow, but it never is dull. This is a near flawless picture and is a stunning biopic that ranks along with Che as a stunning work on the subject it explores. A very interesting, and riveting film, and as an admirer of Winston Churchill, I recommend this film to anyone who are interested in the man, the hero, and the icon that is Winston Churchill.
½
I always enjoy a good biography, I guess...especially an historical one. Now this one wasn't the most exciting one, but it was interesting. I did learn alot about Winston Churchill that I never knew, so that's definitely a plus.
Cynthia S.
Super Reviewer
Television Film, BBC Two, November 2009
Into the Storm Quotes
There are no approved quotes yet for this movie.