Instinct
(1999)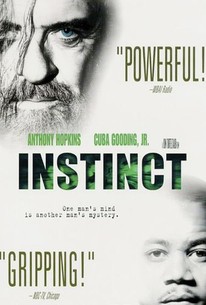 Movie Info
Within the brilliant mind of primatologist Ethan Powell lies an ominous secret -- a deep-seated mystery unsolved by his estranged family and the law enforcement officials who have jailed him for murders that occurred in the jungles of Rwanda. Highly educated and sophisticated, Powell was affected by years of studying mountain gorillas to the point where he was living among them in the wild, as one of their own. Now, held captive in a brutal prison for the criminally insane, Powell, who has not spoken in years, is remanded to psychiatrist Theo Caulder, who must try to unlock the dark mystery in the mind of what appears to be a madman. He encounters a series of perplexing mysteries, questions with chilling answers, and shocking psychological truths. Eventually both men are led on an extraordinary journey of self-discovery.
Critic Reviews for Instinct
Audience Reviews for Instinct
½
A scientist (Hopkins) goes completely native in Africa and needs some psych work before he can safely re-enter good ole society. Enter uber-mind probe types Gooding Jr. and Sutherland for some of that luscious brain squeezin' we all love so much. But wait just one goldurn minnit, is it the scientist who's bonkers ... or is it us? Maura Tierney adds a warm touch to this predictable yet entertaining mangle that still succeeds (with a wink) because of the caliber of guns present.
Kevin M. Williams
Super Reviewer
Cast: Anthony Hopkins, Cuba Gooding Jr., Donald Sutherland, George Dzundza, Maura Tierney, John Ashton, John Aylward, Doug Spinuzza, Paul Bates, Rex Linn, Rod McLachlan, Kurt Smildsin, Jim R. Coleman, Tracey Ellis Director: Jon Turteltaub Summary: After a two-year stint living among a family of gorillas in the African jungle, anthropologist Ethan Powell (Anthony Hopkins) goes on a brutal rampage, killing two poachers. Imprisoned in a Florida mental institution, Powell becomes withdrawn, mute and animalistic. Psychiatrist Theo Caulder (Cuba Gooding Jr.) learns of Powell's condition and takes his case, hoping to unlock the reasons behind the scientist's behavior. My Thoughts: "I can sum this movie up in one word, interesting. Nothing more. The story that is being told by Dr. Powell, is beautiful and tragic. Seeing what happens to the Gorillas was hard to watch. The acting and everything else was great. I definitely recommend this one."
♥˩ƳИИ ƜѲѲƉƧ♥
Super Reviewer
Decent prison movie with Anthony Hopkins defending the apes and his fellow prisoners in the jail. Cuba is good too.
Lafe Fredbjornson
Super Reviewer
Instinct Quotes
There are no approved quotes yet for this movie.