Inside (À l'intérieur)
(2007)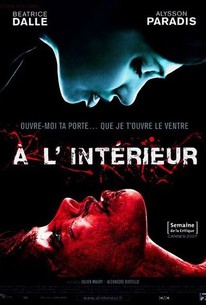 Inside (À l'intérieur) Photos
Movie Info
A pregnant widow awaiting her ride to the hospital must fight for her life against a mysterious woman who comes knocking on her door in directors Alexandre Bustillo and Julien Maury's daring tale of caesarian terror. It's been four months since Sarah (Alysson Paradis) was involved in the tragic car accident that claimed the life of her husband, yet somehow the couple's unborn child miraculously survived the jarring ordeal. Now it's Christmas Eve and Sarah is sitting alone in her suburban home, still grieving the loss of her beloved. Soon, Sarah's mother will arrive to drive her daughter to the hospital, where the doctors plan to induce labor. Out of nowhere, Sarah hears a knock at the door; on the other side is a stranger (Beatrice Dalle) who calmly asks to use Sarah's telephone. Immediately suspicious of the stranger's motivations, Sarah locks the door and quickly calls the police. Upon searching the grounds, the policemen find no trace of an intruder and Sarah cautiously bolts her doors once again. But unbeknownst to the expectant mother, this time she has unwillingly locked herself into a violent struggle for the one thing that matters most to her. Now, as the scissor-wielding psychopath attempts to forcefully claim the new life within Sarah, the jealous maternal battle is about to get bloody. ~ Jason Buchanan, Rovi
Critic Reviews for Inside (À l'intérieur)
Audience Reviews for Inside (À l'intérieur)
A distasteful (and inexplicably overrated) French slasher that begins intriguing but soon gets excessively vicious, outrageous and disgusting, trying to be polemic at all costs and throwing us into a brainless flood of gushing blood and gratuitous gore.
Carlos Magalhães
Super Reviewer
½
Inside is a refreshing tale of demented horror that breaks new ground in the genre. Inside is a film that will shatter your senses and disturb even the most harden veteran of extreme horror. Looking back on the genre, only a few films have pushed the boundaries of good taste. One example is prominent with the classic Italian film Cannibal Holocaust. Although nowhere near the caliber of Cannibal Holocaust, Inside deserves a place in the same category as Cannibal Holocaust. The film pushes boundaries, and it's not a bad thing; far from it. That's the great thing with horror. The ability to push the boundaries and see how far a film will go to terrify its audience. Inside is the most provocative film since Maniac and Cannibal Holocaust which were both released in 1980. The French are slowly becoming masters of horrors themselves, by creating some downright, creepy and terrifying films. One of the most recent, and most disturbing is Inside (A L'interieur) A bloody, gory horror film that will terrify anyone who watches it. Not a film for the squeamish and faint of heart, Inside is a decent into madness. It's an unforgettable film experience that will stay with you for a long time. Before watching this film, ask yourself if you have the stomach to watch this, and if you, watch it at your own risk. Inside is truly one of the most deranged, depraved and disturbing films in recent memory. The film will definitely appeal to gore hounds. The film is a must see for horror fans who enjoy extreme horror films. The violence is unrelenting and this is a film that will definitely stay seared in your memory long after you've seen it. A brilliantly savage film that has some powerful performances, Inside is an accomplished film that will definitely disturb you.
I don't want to rate this because I don't know how to possibly apply the star rating system to what I just witnessed. This film is uncompromising to say the least. Here is a little taste. In the very first scene of the film, a car crash is shown from the perspective of a baby in the uterus. From there, the viewer gets treated to an avalanche of gore, pain, and the occasional side-splitting laugh, minus that last part. I have no problem with gore, but it is a bit too overdone here. Call me old fashioned, but I like the atmospheric slow burn of the classics. While this film does generate quite an intense atmosphere, it always revels a bit too much in explicit gore. Which for me, takes the emphasis away from the scare and focuses too much on the shock. For a man who has been very disappointed by the much of what modern horror films have to offer, this was something new to sink my teeth into. And while i'm glad(?) I watched it, I am not going to be frequently pulling it out for date nights. Unless the date is really, and I mean really, bad.
Inside (À l'intérieur) Quotes
There are no approved quotes yet for this movie.