Infra-Man (Zhong guo chao ren)
(1975)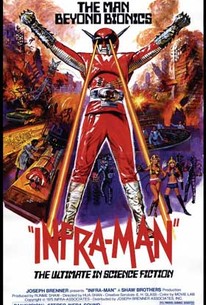 Infra-Man (Zhong guo chao ren) Photos
Movie Info
A Chinese volcanic eruption frees a number of prehistoric monsters into the modern world, and only the superhero Infra-Man can save the day. ~ Jason Ankeny, Rovi
Critic Reviews for Infra-Man (Zhong guo chao ren)
Audience Reviews for Infra-Man (Zhong guo chao ren)
"When they stop making movies like Infra-Man, a little light will go out of the world."- Roger Ebert
Tsubaki Sanjuro
Super Reviewer
What a great film. i owned the VHS of this for ages, afraid to let it go, and now I have a widescreen, subtitled DVD. It will take some getting used to. Like Power Rangers, if it was made for me specifically. An impossible movie to hate if you have just an inkling of a soul.
Christopher Brown
Super Reviewer
This movie is frantic non-stop martial arts superhero action against rubber suited monsters sent out by a dominatrix evil Princess Dragon Mom. It's great fun. I liked the frantic editing, sped up film, and "prang" sound effect whenever Infra-Man would jump. I couldn't stop laughing. The Power Rangers must've seen this and got a big idea.
Lafe Fredbjornson
Super Reviewer
Infra-Man (Zhong guo chao ren) Quotes
There are no approved quotes yet for this movie.