Independence Day: Resurgence
(2016)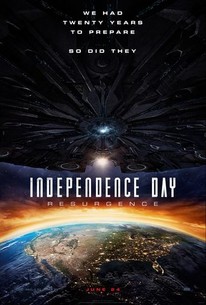 TOMATOMETER
AUDIENCE SCORE
Critic Consensus: It's undeniably visually impressive, but like its predecessor, Independence Day: Resurgence lacks enough emotional heft to support its end-of-the-world narrative stakes.
Independence Day: Resurgence Videos
Independence Day: Resurgence Photos
Movie Info
We always knew they were coming back. After INDEPENDENCE DAY redefined the event movie genre, the next epic chapter delivers global catastrophe on an unimaginable scale. Using recovered alien technology, the nations of Earth have collaborated on an immense defense program to protect the planet. But nothing can prepare us for the aliens' advanced and unprecedented force. Only the ingenuity of a few brave men and women can bring our world back from the brink of extinction. (C) Fox
News & Interviews for Independence Day: Resurgence
Critic Reviews for Independence Day: Resurgence
Audience Reviews for Independence Day: Resurgence
½
The original was never a deep or particularly smart movie, but it was massive fun and had its heart in the right place. Here, 20 years later, all of that is gone. The world has gone full Sci-Fi here, which makes for a lot of shiny special effects and a total lack of the David vs Goliath trope. It's cool how many characters returned for this, but the film hardly knows what to do with them, introducing flat new ones does not help either. A joyless, boring, unfunny mess copying scenes from the original here or there only to make them look bigger and soulless. a somewhat decent showdown can't pull this sinking ship around. What a disappointment and insult for the audience.
½
Retro-sequel seems to have become all the rage lately. Star Wars is back with a vengeance, Indiana Jones is on his way, Alien, Blade Runner, Jurassic World and others have taken franchise stagnant for a decade or more and revived them not with a reboot, but a sequel that continues the long dead story. A film that could have delivered a sequel decades before now is Independence Day, a film that wasn't the greatest but it did deliver some summer popcorn entertainment. Why we didn't get a sequel until now is a mystery to me. The plot isn't going to take much to describe.Honestly, if you've seen the first film then you have seen this one. I was thinking about doing a copy and paste from my view of the first film, but why go to the effort. Plus, there seems to be to much copy and paste going on with this one anyway. Aliens, angry that we beat them in the first film, show up. Throw in a McGuffin so that we have a way to set up another sequel and you're done. Like an assembly line. The film is pure paint by numbers and that philosophy can work when you add something interesting or at least make an effort. This film doesn't do that. The beats are the same as the first film and what is new happens to be well worn cliches from films such as Pearl Harbor. Bill Pullman returns as the ex-President, but actually takes up the crazed Randy Quaid character. Jeff Goldblum also returns, does his thing, and collects his check. Will Smith does not return, opting to appear in Suicide Squad. Not perfect. but better than going backward on the part of Mr. Smith. Throughout the film the cast does its thing, re-making Independence Day. I guess we're going to get hit with more of these. Reboots are garbage, so let's revitalize. The problem is that a retro-sequel can end up being more pathetic than actually starting over from scratch. The movie blatantly sets up a sequel, but whether or not that will come to fruition is up in the air at this time. It sounds like something different, which this movie should have been if it wanted to recapture an audience. Nods to the original are encouraged, but give the viewer a reason to spends time watching your movie. Oh well. The grand daddy of modern disaster porn has fallen. Let's just pack this one away as a relic of the old days.
Chris Garman
Super Reviewer
½
Despite some initially compelling world-building and seeing some of the old cast back (Jeff Goldblum, Bill Pulman, and Judd Hirsch), ID:R is just a generic and mindlessly pointless rehash of the first movie. The original movie is the definition of a guilty pleasure because it's a big budget B-movie that had the benefit of great special effects, mind-blowing action, and obvious enthusiasm and commitment from both the cast and crew. This sequel is lacking all of that. Will Smith is sorely missed in this and the great practical effects of the original are replaced with bland artificial-looking CGI. The action is not particularly creative or exciting either. Only see this movie if you are a die-hard fan of the original (or if you want to get a glimpse into what a live-action Macross movie would look like). Otherwise, just skip this disposable blockbuster tripe.
Christopher Heim
Super Reviewer
Independence Day: Resurgence Quotes
There are no approved quotes yet for this movie.