Incredible Journey of Mary Bryant
(2005)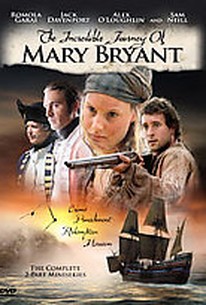 AUDIENCE SCORE
Critic Consensus: No consensus yet.
Movie Info
An eighteenth century female convict arrested for petty theft and sentenced to seven years in Botany Bay stages the only successful escape from the Australian penal colony ever recorded in an inspirational tale of survival and perseverance starring Ramola Garai, Jack Davenport, and Sam Neill. The year is 1788, and starving twenty-one year old Mary Bryant has been convicted of thievery in a Cornwall court. Subsequently sentenced, along with hundreds of hardened criminals, to an extended stay in the punishing penal colony of Botany Bay, Mary sets sail on the prison ship that will take two-hundred-and-fifty-one days to reach its bleak destination. During that time, Mary has a child with fellow inmate William Bryant - a fisherman and drug dealer who has also been sentenced to an extended stay on Botany Bay. Soon after arriving at their destination Mary and William have another child while lamenting their future in such a punishing landscape. ~ Jason Buchanan, Rovi
Critic Reviews for Incredible Journey of Mary Bryant
Audience Reviews for Incredible Journey of Mary Bryant
½
Deep hunger leads Mary(Romola Garai) to rob a woman in Cornwall in 1786 and also hinders her attempting to escape from a platoon of soldiers. Instead of being hanged, she is sent with other criminals to a new colony in New South Wales. The conditions onboard are so bad for the six month voyage that Lieutenant Clark's(Jack Davenport) wife wants nothing to do with it, even as a free passenger. In response, he is kind to the prisoners, especially to Mary who he chivalrously offers to let stay in his quarters after she is injured during a storm. But after she gives birth on board, she marries William Bryant(Alex O'Loughlin), a fellow prisoner, upon arrival. "The Incredible Journey of Mary Bryant" is a mostly winning combination of history, romance and adventure that verges on being a bodice ripper at times. While being culled from an eight hour miniseries leads to the editing being more than a little choppy, there is also a classic cliffhanger at the end of part one. And I was thinking at one point this was rather anti-climactic but then it turned out the story was not quite finished with a few more twists to go. All of which is in the service of not only presenting the true story of an eighteenth century cause celebre, but also the story behind the founding of a country. Granted, it is one where apparently nobody initially wanted to stick around for long.(This was also before the oppression of the native people began which is foreshadowed in a few key scenes.) That just proves sometimes you just don't know.
Nice movie. Miniseries length. Not really sure what happened at the end, but I have a feeling that it wasn't supposed to be a happy ending...
Cynthia S.
Super Reviewer
Compelling up to a point but it's too drawn out. Good acting though.
Incredible Journey of Mary Bryant Quotes
There are no approved quotes yet for this movie.