In Tranzit
(2006)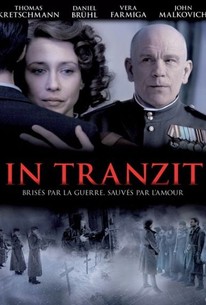 AUDIENCE SCORE
Critic Consensus: No consensus yet.
Movie Info
When the female guards at a Soviet prison camp mistakenly receive a shipment of German POWs, their attempts to single out former SS officers yields unexpected complications. World War II Has drawn to a close, but the fight to retain our humanity has just begun. At first, the guards seem to get enjoyment out of sadistically toying with the inmates. But as time passes, individuals on both sides begin to realize that the truth is never as simple as black and white, and that sometimes the most beautiful things can blossom under the harshest of circumstances. John Malkovich, Vera Farmiga, and Thomas Kretschmann star.
Critic Reviews for In Tranzit
All Critics (1) | Fresh (1) | Rotten (0)
The scattershot story never builds dramatic momentum, but it does take some interesting twists and turns and it does have an air of authenticity.
Audience Reviews for In Tranzit
½
Based on a true story, "In Tranzit" wastes a unique setting and a good international cast on a nonexistent plot and thinly drawn characters. It is 1946, and in an empty woman's prison camp near Leningrad, a truck arrives carrying what was 53, now 51 male German prisoners of war. Ok, make that a round 50 after one of them is shot by a female prison guard in retaliation for many a Nazi atrocity, including the Siege of Leningrad which lays in many a character's mind, especially Captain Pavlov(John Malkovich) who tells the camp doctor(Vera Farmiga) that they must do with whatever meager supplies they have, and the prisoners should be thankful they are being taken care of by the Soviet Union. As you can see, he prefers the tough approach with his charges, even publicly humiliating Zina(Natalie Press) for fraternizing with the enemy. But are they still the enemy? For the most part, the movie is sympathetic to the men who just want to return home while reminding us that some are also hardcore Nazis guilty of war crimes. However, it goes too far in this direction at times, turning into something of a soap opera when what is needed is a more potent examination of the role reversal, especially with the women holding power over the men for once.
½
Strange tale, supposedly based on true events that took place in the aftermath of WWII. A group of German prisoners are sent to await their ultimate fates at a Russian transit camp normally occupied by, and guarded by, women. An excellent cast, solid camera work, and bleak Russian locations (not many places can duplicate the harshness of a Russian winter) are somewhat offset by the weakness of the script and the lack of focus from the director. John Malkovich is quite menacing as the Russian commandant, Pavlov, who enlists the aid of Natasha (Vera Farmiga) the camp doctor in ferreting out the war criminals. Complicating matters, the good doctor's husband guards the gate to the camp and has been severely disabled by shell shock. The problem with the story for this viewer was that it seemed like the director could not decide whether he was telling an improbable love story between former enemies, a story of forgiveness and redemption, or a straight out depiction of brutality and intrigue. A few plot elements, and especially in the last twenty minutes, were hard to swallow and wound up leaving this viewer unable to make up his mind about this. The strength of the cast and their performance, including Thomas Kretschmann as the German soldier who attracts the interest of the doctor, earns this film a three and a half star rating. One has to suspect that scenes that would have helped make sense of this may have wound up on the cutting room floor. Either that or the director, Tom Roberts, needs to stick to documentaries.
Mark Abell
Super Reviewer
In Tranzit Quotes
There are no approved quotes yet for this movie.