In the Realms of the Unreal
(2005)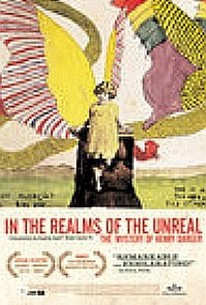 In the Realms of the Unreal Photos
Movie Info
An innovative masterpiece that literally gives wings to one man's singular vision of an imaginary world. Henry Darger lived a reclusive life and died alone in a Catholic mission in 1973. For more than 60 years, he created a massive literary and graphic body of work, including The Realms of the Unreal, an epic, fifteen-thousand-page novel with hundreds of paintings that recounts the wars between nations on an enormous unnamed planet. Darger's keen sense of composition and vivid colors allowed him to create incredibly intense and beautiful illustrations, which are often disturbingly violent. Consciously excluding art experts and psychologists, Yu presents impressions of Darger's work only from the people who knew him, letting the audience make up their own minds about the man. The film cleverly parallels his real life with his fantasies, making the oddness of his fantasy world more accessible.
Cast
Critic Reviews for In the Realms of the Unreal
Audience Reviews for In the Realms of the Unreal
Documentary on Henry Darger, the reclusive Chicago janitor who secretly wrote a slightly insane 15,000 page novel about a child slave rebellion mixing the Civil War, Christianity and children's fantasy stories, illustrated by hundreds of incredibly detailed full size paintings. A solid introduction to Darger, whose utterly unique and slightly disturbing oeuvre has made him the poster boy for the outsider artist.
A story so bizarre that you'd consider it wildly creative fiction were it not completely true. Jessica Yu documents the incredible secret life of Henry Darger, a janitor who's imaginative works of art and literature were discovered after his death in 1973. Fascinating stuff!
Randy Tippy
Super Reviewer
Henry Darger was a reclusive retired janitor who lived quietly in Chicago. Upon his death, his landlady discovered a side to him that no one suspected. He wrote several journals, detailing his life story, and a novel that takes up 15,000 pages, describing a surreal battle between good and evil, led by seven mythical sisters. He also painted several large murals, illustrating his tale. Strange fellow, indeed. This documentary tries to convey some of the grandeur of his life's work. A little dry for this viewer's taste, and the sheer volume of the work makes it difficult to assess the artistic value. Some of the images are quite bizarre, indicating an unfamiliarity with female anatomy. A mildly interesting look at the work of one who epitomizes outsider art.
Mark Abell
Super Reviewer
In the Realms of the Unreal Quotes
There are no approved quotes yet for this movie.