In the Mood for Love
(2001)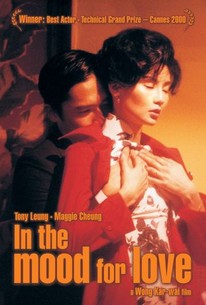 TOMATOMETER
AUDIENCE SCORE
Critic Consensus: This understated romance, featuring good performances by its leads, is both visually beautiful and emotionally moving.
In the Mood for Love Photos
Movie Info
For his first film since the 1997 Hong Kong handover, auteur filmmaker Wong Kar-wai directs this moody period drama about unrequited love that, like his earlier work, swoons with romantic melancholy. Set in a Shanghaiese enclave in Hong Kong in 1962, the film centers on two young couples who rent adjacent rooms in a cramped and crowded tenement. Li-zhen (Maggie Cheung) works as a secretary in an export company while her husband's job at a Japanese multinational keeps him away on extended business trips. Across the hall, Chow (Tony Leung Chiu-wai) works as a newspaper editor and is married to a woman who is also frequently out of town. Neither respective spouse is ever shown in full, instead they are shot from the back or obscured by walls and furniture. Li-zhen and Chow soon strike up a cordial -- if tenative -- friendship. Chow begins to suspect that his wife's long absences are not entirely business related when he stops in unannounced at her office to discover that she is not there. Later, a colleague tells him that he saw his wife with another man. The icing on the cake comes when Chow notices that Li-zhen's handbag is identical to his wife's while Li-zhen discovers that Chow is wearing a tie that she gave her husband; it doesn't take long for them to realize that their spouses are sleeping together. Drawn together by shame and anger, Chow and Li-zhen reveal nothing of their discoveries to their partners. While working through their guilt by imagining how their adulterous spouses first hooked up and rehearsing interrogations, the pair slowly fall in love in spite of their determination to uphold their end of their marital vows. ~ Jonathan Crow, Rovi
News & Interviews for In the Mood for Love
Critic Reviews for In the Mood for Love
Audience Reviews for In the Mood for Love
Veronique Kwak
Super Reviewer
Possibly the most unique and finely crafted romances to ever grace the silver screen. Wong Kar Wai, known for his work capturing the intimate lives of those living in a densely-packed metropolis & capturing the beautifully-lit Hong Kong city-scapes with the help of cinematographer Christopher Doyle, soulfully indulges in exploring one of his favorite themes: unrequited love. Rather than just stressing the forlorn, Wai looks at a pair who share a common bond, but due to societal and self-inflicted restraints, must now eternally deal with the onerous question of "what could have been?" In a city where secrets are seldom kept for long, Chow (Tony Leung) & Su's (Maggie Cheung) fates become intertwined as it is learned that their spouses are having an affair. Through their mutual grief & longing to understand, they evolve from consolers into pursuers. However, fearing the public's opinion on such a taboo tryst-coupled with their own fears of what they will become-they do not allow themselves to fully give in to their desires. Wai's skillful eye helps to augment the arresting power behind the lover's concerns. Being so obsessed with gossip & fearful of becoming the object of scandal, Wai's framing and intrusive camera-work gives the sense that as an audience we are just as culpable as the neighbors for making judgements about how these people run their private lives. Rarely, do we see these characters from inside their personal space. Most of the time there is a blurred door-frame in the forefront of the picture or a slightly dirty window-pane separating us from their intimate moments. This visual motif is highly effective as one cannot help but feeling like a voyeur, projecting our morality on to them & using their personal lives as entertainment. We are among the countless eyes scrutinizing their every move, confirming their worst fears. A theme made all the more intriguing by Michael Galasso's beautifully moody score. While this would seem like enough material for an already great film, Wai subtly adds another dimension to the story by not only having this couple be the victim of public perception, but also by showing the agency by which they are molding their own future. Upon hearing the news of their spouse's infidelity, Chow & Su begin to act out scenarios in which they pretend to be each others betrothed. In their own way, attempting to understand how relationships of this nature develop. Bizarre enough as the situation already sounds, they seem to begin living vicariously through these mock sensual exchanges. Experiencing the same thrill that their partners must have felt. Only unwilling to consummate the relationship for fear of having to relinquish the moral high ground. After all, Wai shrewdly hints throughout the picture that their situation isn't completely thrust upon them. Their eyes are wondering ever so slightly & they are even seen changing direction when the other is near. Also, Su is constantly adorned with the latest fashion. (49 different dresses throughout the film to be exact). Causing one of her neighbors to off-handedly remark to another, "She dresses like that to go out for noodles?" It is buried more than the other themes in the film, but one that adds a curious complexity to the whole situation. This film is a rare gem in a genre that I thought I had written-off completely. One that is not only thought-provoking & gorgeous to look at, but suffused with something I find missing in most romance pictures: sincerity.
In The Mood For Love is a Kar-Wai Wong delicate masterpiece of shared sorrow inflicted by distant and adulterous spouses. Elegance despite treachery. Stylized and sophisticated cinema artistry. Sultry soundtrack. Exquisite.
Jan Marc Macababayao
Super Reviewer
In the Mood for Love Quotes
There are no approved quotes yet for this movie.