In Bruges
(2008)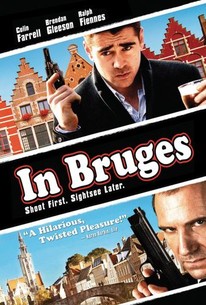 TOMATOMETER
AUDIENCE SCORE
Critic Consensus: Featuring witty dialogue and deft performances, In Bruges is an effective mix of dark comedy and crime thriller elements.
Movie Info
Bruges (pronounced "broozh"), the most well-preserved medieval city in the whole of Belgium, is a welcoming destination for travelers from all over the world. But, for hit men Ray and Ken, it could be their final destination. A difficult job has resulted in the pair being ordered right before Christmas by their London boss Harry to go and cool their heels in the storybook Flemish city for a couple of weeks. Very much out of place amidst the gothic architecture, canals, and cobbled streets, the two hit men fill their days living the lives of tourists. Ray, still haunted by the bloodshed in London, hates the place, while Ken, even as he keeps a fatherly eye on Ray's often profanely funny exploits, finds his mind and soul being expanded by the beauty and serenity of the city. But, the longer they stay waiting for Harry's call, the more surreal their experience becomes, as they find themselves in weird encounters with locals, tourists, violent medieval art, a dwarf American actor shooting a European art film, Dutch prostitutes, and a potential romance for Ray in the form of Chloë, who may have some dark secrets of her own. And, when the call from Harry does finally come, Ken and Ray's vacation becomes a life-and-death struggle of darkly comic proportions and surprisingly emotional consequences.
News & Interviews for In Bruges
Critic Reviews for In Bruges
Audience Reviews for In Bruges
½
A bit too violent, but otherwise, fantastic plot.
Letitia Lew
Super Reviewer
½
Two hitmen idle for awhile in the quaint Belgium city of Bruges, known for still being the most medieval of places remaining in Europe, cooling off after a hit gone bad in London. What're two cosmopolitan London gangster types to make of the quiet ancient town? Brendan Gleesan is always grade "A" good, and what accolade is left for Ralph Fiennes to garner? But Colin Farrell? Here is a major talent and yet somehow frequently overlooked. I don't understand it. This picture rides on his performance, and he does quite admirably. Maybe only specific writers grok his chi ... This black comedy'll put writer/director Martin McDonagh on your radar if he wasn't there before, if only for the sharp throwaway insights as to tourist travelling the continent.
Kevin M. Williams
Super Reviewer
½
Failed hitman Colin Farrell is sent to Bruges with fellow hitman and friend Brendan Gleeson to lay low after the botched murder of a priest results in the death of a small boy. Sounds like a barrel of laughs doesn't it? But this endlessly surprising film is just that. The dialogue is extremely smart and witty and it's full of very funny and politically incorrect humour as well as gangster related drama and surreal situations that's slightly reminiscent of a rather more cerebral and literary Guy Ritchie movie. Farrell is great as a culturally inept childish oaf who you can't help liking and despite the humourous approach and dubious morality of everyone involved you actually start to care about them all. I particularly liked the way that their moral "code" is shown as absurdly misplaced and hypocritical rather than honourable and the script is quirky but never resorts to self-conscious "I'm mad, me!" wackiness. It's refreshingly unpredictable right to the end and I really, really enjoyed it. People who don't like the "f" or "c" words should definitely steer clear though!
In Bruges Quotes
There are no approved quotes yet for this movie.