In a World...
(2013)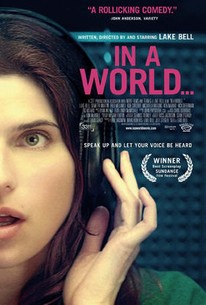 TOMATOMETER
AUDIENCE SCORE
Critic Consensus: A funny, well-written screwball satire for film buffs, In a World... proves an auspicious beginning for writer, director, and star Lake Bell.
Movie Info
Lake Bell ("Children's Hospital") stars in In a World..., a hilarious romantic comedy about a struggling vocal coach who strikes it big in the cutthroat world of movie-trailer voiceovers, only to find herself in direct competition with the industry's reigning king-her father. Written and directed by Bell, who won the Sundance 2013 Waldo Salt Screenwriting Award for the script, In a World... also stars Fred Melamed (A Serious Man), Rob Corddry (Hot Tub Time Machine), Demetri Martin ("Important Things with Demetri Martin"), Michaela Watkins ("Enlightened"), Ken Marino ("Burning Love"), Nick Offerman ("Parks and Recreation"), Alexandra Holden (The Hot Chick) and Tig Notaro ("The Sarah Silverman Program"). (c) Roadside Attractions
News & Interviews for In a World...
Critic Reviews for In a World...
Audience Reviews for In a World...
This begins sort of like an insider's critique of the behind-the-scenes schmucks of damned Hollywood, factory outlet for packing foam, but gradually eases its squint, and so the people become not-just-people but relatable folks, and then even likable. Bell herself is the main example of this: shallow and plastic at the start, but someone you wind up rooting for by the end. Well written (and for a film that's saying something) packed with surprises too. Pretty good. Unique.
Kevin M. Williams
Super Reviewer
Speak up and let your voice be heard. Good Comedic Film! This modest comedy takes place in the mini-world of people who do voice overs. Apparently this world exists. And, like all such worlds, it has stars, former stars, people who want to be stars and will make it, and people who want to be stars and won't make it. Bell is a good director and a good actor. She keeps her excellent ensemble cast moving along. The story line starts with boy meets girl, so you know how it will end, but there are enough unexpected twists and turns to hold your interest. It will work well on the small screen. My advice is to seek it out and see it. Just don't expect a movie that's so powerful that it will change your life forever. An underachieving vocal coach is motivated by her father, the king of movie-trailer voice-overs, to pursue her aspirations of becoming a voiceover star. Amidst pride, sexism and family dysfunction, she sets out to change the voice of a generation.
I believe that the main disconnect between viewers and critics of this film, was that critics realized that Lake Bell writing, directing, and starring in a film that had to do with female empowerment via inclusion was a very big deal. Females playing the lead role, and creating stories that are actually seen, is a very rare occurrence that not a lot of people talk about. The story is interesting, since it deals with the real world issue of voice overs being dominated mostly by men. The characters are interesting as they interact, but not as standalones. The plot doesn't really flourish past its initial concept, though it does come to a satisfying end. The struggle between our lead character and her voice-over pro of a father is pretty tense, and the ending shows that struggle with intelligent discourse. While it's sad that the film didn't move past basic romantic comedy to address its premise, it was a sweet satisfying little comedy with equally amusing actors.
Spencer S.
Super Reviewer
In a World... Quotes
There are no approved quotes yet for this movie.