Immortal Beloved
(1994)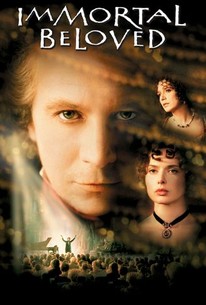 Movie Info
This biography of Ludwig von Beethoven (played here by Gary Oldman) builds its narrative around an actual letter found after his death, addressed only to the composer's "immortal beloved." The responsibility of discovering this mysterious person's identity falls to Beethoven's friend and secretary (Jeroen Krabbé), who sets out on an investigation that soon becomes an exploration of the composer's life. Through recollections and scattered hints, we receive glimpses of Beethoven's relationships with women, particularly his close interaction with a pair of very different Countesses. The film also pays prominent attention to the composer's oddly obsessive relationship with the young nephew whom he attempted to mold in his own image, and Beethoven's eventual hearing loss and descent into emotional instability.
News & Interviews for Immortal Beloved
Critic Reviews for Immortal Beloved
Audience Reviews for Immortal Beloved
Gary Oldman is absolutely phenomenal here as Ludwig van Beethoven but the supporting cast is a bit overacted or sometimes wooden and fake. The film itself is a little confusing and slow but it's easy to forget that when you're wrapped up in the mystery, and when watching Oldman give a tour de force performance, and listening to the magnificent music of Beethoven.
Raymond Wieser
Super Reviewer
½
Immortal Beloved is an incredible biopic about one of the most famed composers who ever lived. Gary Oldman is the perfect choice to play composer Ludwig Van Beethoven. He brought such charisma to his performance that it's a shame he didn't win an Oscar. I thought he was excellent in the role. Immortal Beloved is a well crafted picture that focuses on the life of Beethoven, and with Gary Oldman's incredible performance, it adds so much to this already impressive film. Whenever a filmmaker decides to tells an artists story on film, it can be either bad or goo. But like Amadeus before it, Immortal Beloved has the distinction of being an incredible and memorable film about another famous composer. The film is different than Amadeus, but it still manages to be just as grand as that film was. Because after all, Beethoven wasn't a forgettable person. Director Bernard Rose did a fine job at bringing Beethoven's life to the screen, and with this cast; he's able to convey a near flawless piece of cinema to the screen. Immortal Beloved is a beautifully acted and told film that has a wonderful story. This is a film for people who admire Beethoven and for Classical music fans everywhere. As of yet, this is the best biopic on Beethoven's life that I have seen, and with Gary Oldman in the lead role, it will be very hard to find someone to outdo his performance. A truly engaging picture.
How to depict "genius"? Yes, there are the achievements ... but why? This movie goes with love as the motivating factor that drove perhaps the world's most renowned composer, the Einstein of music, Beethoven. Oldman, no slouch artist himself, is magnetic as a soul slowly losing that which is most to him in this captivating mystery that attempts to define the undefinable. A worthy effort.
Kevin M. Williams
Super Reviewer
Immortal Beloved Quotes
There are no approved quotes yet for this movie.