Immortal
(2004)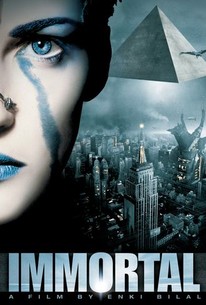 Movie Info
The year is 2095 and the ancient Egyptian gods have returned to Earth to cast judgment on the falcon-headed god Horus in this epic fantasy from comic-book creator Enki Bilal. Given only one week by the gods to preserve his immortality, Horus must search New York City and find both a human host whose body he will inhabit and a willing mate to continue his legacy. As the enormous pyramid of the gods looms ominously over Manhattan, a beautiful and mysterious young woman named Jill wanders the streets in search of her true identity. With striking blue hair to match the azure tears that stream down her cheeks, Jill is joined in her search by a doctor determined to help her unlock her true power. In the Immortal world, reality is limited only by imagination, and the futuristic city is inhabited by creatures never conceived in even your wildest dreams.
Critic Reviews for Immortal
Audience Reviews for Immortal
EightThirty .
Super Reviewer
The Egyptian god Horus shows up in a pyramid floating above Manhattan in 2095. The CGI special effects are as strange as the plot---for no obvious reason, more than half the human characters are played by "Final Fantasy" avatars---and the story leaves a lot of loose ends, but there is more imagination on display here than in a dozen Hollywood blockbusters. Confusing, but worth a look for the adventurous.
½
The film has good actors and good story. The CGI goes from great to bad and yet the "bad" CGI fits into this sci-fi fantasy as if they were computer avatars of real people. Like delving into a mind of a true sci-fi lover who needs to show an audience topics that have been left alone. Its really odd and a cold world, so I think I have not seen a movie that makes CGI this bad into a reliable story prop, almost a commodity for your mind, that is if your mind likes rich sci fi stories. The character too, they are excellent and feel like they have been lived and not just created on a script-writers spare day off ( like so many sci fis ) The film, I have to argue is art, because none of it looks like it was fitted together in a whim, although some will disagree with me and say "its bad" I think its original. When a budget is not there for a movie, bad CGI is still often used because it draws an audience, its been strategically placed in the film here, as a great painter leaves no media wasted, the director here has really pushed his work load in order to satisfy something calling inside of him (or her) and really I can't see them doing better. Once you made a film in hollywood for the world to see, they often want to see the same thing in a different way. I wonder how the director and staff really feel about their future. I would watch this film again, but really only on my own, or with someone who really appreciates sci fi artwork or somebody who has seen the film and liked it. Not to say that people, and families watch this. But there is levels of violence not suitable for non-mature audiences.
Alexander Wilson
Super Reviewer
Immortal Quotes
There are no approved quotes yet for this movie.