Ikiru
(1956)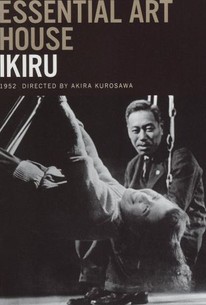 TOMATOMETER
AUDIENCE SCORE
Critic Consensus: Ikiru is a well-acted and deeply moving humanist tale about a man facing his own mortality, one of legendary director Akira Kurosawa's most intimate films.
Movie Info
Akira Kurosawa's drama stars Takashi Shimura as Kanji Watanabe, a government clerk who learns he has only months to live. Fearing his life may amount to nothing, he decides to turn his back on his rigid routines in order to search for the meaning of existence.
News & Interviews for Ikiru
Audience Reviews for Ikiru
½
A special, bittersweet and sometimes surprisingly funny celebration of the act of living, beautifully directed and with a wonderful performance by Takashi Shimura as an awkward old protagonist who should inspire us all to reconsider the way we have been living our lives.
Carlos Magalhães
Super Reviewer
A well crafted film with a heartfelt story that is poignant, deep, this masterpiece of a film laments life's biggest truths about our own measly, mortal existence. I haven't seen a modern movie quite like it. Ikiru is a brilliant film because of the ingenious cinematography, one would certainly agree to such; that it concerns us, because the problems faced are very real and speaks of truth, however sad(or liberating) as one may see fit. Ultimately, it works because it succeeds in doling out quintessential truths about our humanity, of our very lives.
Adriel Lim
Super Reviewer
After being lied to by his doctor, a bureaucrat discovers that he has inoperable stomach cancer, and he searches hedonism, a co-worker, and his work for fulfillment before he meets his end. This film is simply marvelous. The performance by Takashi Shimura as the dying man is remarkable for his quiet sadness and determination. The scenes in which he sings on the swing and in the bar are nearly magical in their ability to draw the audience in to Watanabe's mental state. His outbursts to Toyo are passionate and riveting. Kurosawa's direction is at top form. I think my favorite shot is the foregrounding of the dying man and his co-worker at a restaurant while in the background there is a joyous birthday celebration. It is pure visual poetry, as the background action carries on, each of its participants doomed to one day be in the foreground. What is Kurosawa saying with this film? It can't simply be reduced to another "carpe diem" anthem, though there are elements of this. Rather, I think Kurosawa realizes that we've all heard "carpe diem" before, but the tragedy of life is that we fail to recognize its exigence until it's too late. We see this both in Watanabe's reaction to his impending death and the wake scene in the third act. Overall, this is undoubtedly Kurosawa's best film, focusing on the frailty of the human condition and the temporal limitations of life.
Jim Hunter
Super Reviewer
Ikiru Quotes
There are no approved quotes yet for this movie.