If These Walls Could Talk
(1996)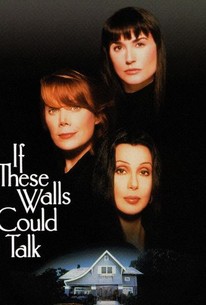 Movie Info
Covering 40 years, this anthology is about three disparate women coping with unexpected pregnancies. The first takes place in 1952 and centers on recently widowed Claire. The second takes place in 1974 when Barbara, who already has four kids, tackles another one. The last is 1996 when Christine contemplates abortion.
Critic Reviews for If These Walls Could Talk
All Critics (8) | Top Critics (1) | Fresh (7) | Rotten (1) | DVD (2)
There's little art and not much entertainment either in HBO's earnestly didactic anthology of how a series of different women deal with their unexpected pregnancies.
October 26, 2006 | Rating: C+

Overly earnest but admirable short films about important issues.
August 13, 2004 | Rating: 3/5
Too earnest perhaps, but interesting
June 19, 2003 | Rating: 3/5
Audience Reviews for If These Walls Could Talk
If These Walls Could Talk is an uncompromising trio of films dealing with the abortion issue over three decades. It's fascinating to watch how times have (and haven't) changed. In this regard, 1952 starring Demi Moore and 1996 starring Anne Heche and Cher are the most resonant stories. In the former, Moore plays a widowed nurse struggling to find a way to safely terminate her pregnancy in a decade where such practices were illegal, shrouded in secrecy and often resulted in the woman dying from haemorrhaging or infection. It's painful to watch and Moore is unusually excellent, and there's good support from mother-of-one Catherine Keener as the step-sister. In 1996, Heche plays a student who becomes pregnant following an affair with one of her professor's. This is easily the standout story; it is still hugely relevant, with a mixture of views on the issue represented without judgement. Cher, who capably directs this segment, has quite a small role as one of the doctors at the clinic Heche visits, and I wonder if her ego was involved in getting her the starring credit or if it was considered necessary by the studio in order to attract a bigger audience. 1996 undoubtedly is based on true events - the ending, which is properly shocking, seems ripped from the headlines - making it all the more powerful. By contrast, the Sissy Spacek headlining 1974 - the shortest of the three films - isn't particularly involving since, oddly, her situation is presented as the least difficult to manage. I suppose a middle-aged woman with a large family discovering she is pregnant once again just isn't particularly interesting (though I do remember that an episode of ER handled a very similar situation with greater dramatic depth). Overall though, If These Walls is a moving project that rises above from its somewhat 'televisual' aesthetic.
Daniel Parsons
Super Reviewer
Wow. Amazingly upsetting but a really good HBO movie.
Sunil Jawahir
Super Reviewer
½
Have to see it again one day, it's been a while, but I remember that it made a very big impression on me and stuck in my head ever since. Moving, important film.
If These Walls Could Talk Quotes
There are no approved quotes yet for this movie.