Identificazione di una donna (Identification of a Woman)
(1982)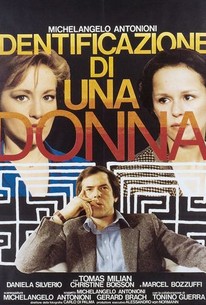 Identificazione di una donna (Identification of a Woman) Photos
Movie Info
A love triangle forms the basis of this Italian drama that centers around a middle-aged director and his involvement with an aristocratic woman. Trouble ensues when he begins to receive anonymous threats demanding that he abandon the relationship. When the woman mysteriously disappears, the director then begins seeing an actress who works in experimental plays. She too leaves after telling him that she is carrying another man's child.
Critic Reviews for Identificazione di una donna (Identification of a Woman)
Audience Reviews for Identificazione di una donna (Identification of a Woman)
Arguably, "Identification of a Woman" is legendary director Michelangelo Antonioni's final essential film. It's not on the level of earlier masterpieces like "L'Avventura," "La Notte," "Blow-Up" and "The Passenger," but it has similar languid pacing. A troubled director believes the inspiration for his next movie will come from a woman's face, and he becomes particularly obsessed with a beautiful, younger gal named Mavi. He pursues her for awhile and -- somewhat reminiscent of "L'Avventura" -- eventually decides he was looking for something else instead. Typically, the movie is deliberately slow and lasts much longer than its slim plot demands. This padding would be easily tolerated except that most scenes take place indoors, so the imagery includes little of Antonioni's usual poetic landscapes. The film boasts a hip, synthetic soundtrack with various contemporary pop songs and a score by John Foxx (ex-Ultravox).
Eric Broome
Super Reviewer
½
A very beautiful film with that special Antonioni atmosphere. I can identify with the feeling of emptiness and the people who can´t really communicate with each other. Modern life and adulthood seems shallow and a bit soulless. You have to fill it with something and make it human again. The first time I saw it I was disapointed but it improved greatly with the second viewing and I want to see it again. There are new things to discover each time as with all of Antonionis´ films.
Cassandra Maples
Super Reviewer
Identificazione di una donna (Identification of a Woman) Quotes
There are no approved quotes yet for this movie.