Ida
(2014)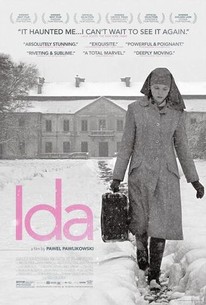 TOMATOMETER
AUDIENCE SCORE
Critic Consensus: Empathetically written, splendidly acted, and beautifully photographed, Ida finds director Pawel Pawlikowski revisiting his roots to powerful effect.
Movie Info
From acclaimed director Pawel Pawlikowski (Last Resort, My Summer of Love) comes IDA, a moving and intimate drama about a young novitiate nun in 1960s Poland who, on the verge of taking her vows, discovers a dark family secret dating from the terrible years of the Nazi occupation. 18-year old Anna (stunning newcomer Agata Trzebuchowska), a sheltered orphan raised in a convent, is preparing to become a nun when the Mother Superior insists she first visit her sole living relative. Naïve, innocent Anna soon finds herself in the presence of her aunt Wanda (Agata Kulesza), a worldly and cynical Communist Party insider, who shocks her with the declaration that her real name is Ida and her Jewish parents were murdered during the Nazi occupation. This revelation triggers a heart-wrenching journey into the countryside, to the family house and into the secrets of the repressed past, evoking the haunting legacy of the Holocaust and the realities of postwar Communism. In this beautifully directed film, Pawlikowski returns to his native Poland for the first time in his career to confront some of the more contentious issues in the history of his birthplace. Powerfully written and eloquently shot, IDA is a masterly evocation of a time, a dilemma, and a defining historical moment; IDA is also personal, intimate, and human. The weight of history is everywhere, but the scale falls within the scope of a young woman learning about the secrets of her own past. This intersection of the personal with momentous historic events makes for what is surely one of the most powerful and affecting films of the year.
News & Interviews for Ida
Audience Reviews for Ida
½
With a 1.37:1 aspect ratio and a gorgeous, oppressive cinematography in black and white, this gripping drama does a flawless job exploring the silence and empty spaces within the frames to underline the elusive void that is present in the lives of two women.
Carlos Magalhães
Super Reviewer
½
This film isn't much interested in telling what is happening in the present, because the implications of the past are too great. A soon to be confirmed nun is sent away from her parish to meet her only living relative before she takes her vows. When they meet she learns a sad truth about her family, and realizes that her past is important, though she can't remember it. The film blends together the horror of the Jewish genocide that was the Holocaust, and the ever encroaching form of Communism that had a hold of Poland. The film balances these politics, while also showing the emotional struggle of the main character, who seems to see the beauty of forgiveness, but she herself cannot totally give into it. She doesn't have the authority to forgive, because she was an infant, but she can understand the ills of those who took her family from her. It's a mysteriously dark tale that has the ability to look and feel beautiful with its stunning cinematography and choice of shooting in black and white. This film is very powerful in its depiction of these characters, in this time, trying to find answers where none really exist.
Spencer S.
Super Reviewer
½
The Christian and Jewish belief systems are two very different ideals, and watching a woman raised as a nun, realizing she has a Jewish aunt was fascinating to me. The back and forth they share once Ida realizes she is a Jewish nun was very well-executed. At a mere 80 minutes, this film flies by quickly and you are sucked right in. I felt myself wanting more by the end, even though they wrapped it up perfectly. The film did not have to take the few dark turns that it did, but aside from those, this is a near perfect film. Simple and to the point is the best way to make a film sometimes. Well-written, well-directed, and extremely well-acted by it's two leading ladies. With frames as uniquely and precisely shot as this film is, every shot counts in this picture, and I must say, "Ida" is a superb film.
Ida Quotes
There are no approved quotes yet for this movie.