Ichi the Killer (Koroshiya 1)
(2001)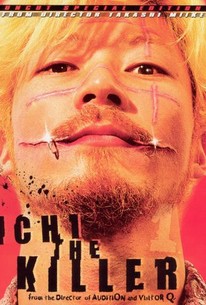 TOMATOMETER
AUDIENCE SCORE
Critic Consensus: Ichi The Killer is a thoroughly shocking gorefest that will surely entertain those with strong stomachs and a penchant for brutal violence.
Ichi the Killer (Koroshiya 1) Videos
Ichi the Killer (Koroshiya 1) Photos
Movie Info
Maverick auteur Takashi Miike spins this unsettling, blood-soaked yakuza yarn adapted from Hideo Yamamoto's cult manga Koroshiya 1. When mob don Anjo mysteriously disappears, his protégé Kakihara (Tadanobu Asano) vows to find the people responsible. Sporting a blond head of hair and a yawning, pierced slash for a mouth, Kakihara is no ordinary gangster and his methods are equally unorthodox; he impales one poor suspect's naked body on a series of meat hooks and then dumps hot oil on him. Meanwhile, a shadowy character known as Jijii (played by director Shinya Tsukamoto) deftly manipulates, for his own nefarious ends, Ichi (Nao Omori), an unbalanced but ruthless killing machine clad in a superhero suit. Pining for the sadistic abuse of his boss, Kakihara learns of Ichi from a Hong Kong hostess (Alien Sun) and sets out to find this fabled butcher, hoping he can inflict the pain that Kakihara craves. This film was screened at the 2001 Toronto Film Festival as a part of the Midnight Madness program.
Critic Reviews for Ichi the Killer (Koroshiya 1)
Audience Reviews for Ichi the Killer (Koroshiya 1)
½
Definitely shocking in its excess of gore and brutal violence, this bizarre (and inadvertently hilarious) manga story is filled with a surprising dose of dark humor and features a cute but odd anti-hero and an always fascinating sadomasochistic villain.
Carlos Magalhães
Super Reviewer
½
Raw, gritty and intense, Ichi The Killer is a film that will surely make you uncomfortable from the moment the film starts. This is an intense film, one that you cannot tear yourself away from, in other words this is the type of film that dares you not to look away. With a blend of horror and crime film elements, this film is an intense viewing experience that you won't forget anytime soon. The cast do a fine job in their roles and if you're looking for a truly disturbing film, Ichi The Killer is such a film to watch. Overall, this is a decent film, one that is designed to shock its audience in the most extreme way, and it works. However in terms of story, the film is a little light, and doesn't really have any depth. This is a film that relies more on its shock value to capture your imagination. For genre fans that enjoy the Torture Porn genre, you may enjoy this, but to others, this is a hard film to watch, one that is graphic and intense from the first shot right up to the climax. This is one of the most extreme films that I've seen in the horror genre, and it is a movie that is decent for what it is, but it never is anything great. Ichi The Killer is one of those movies that is only worth seeing once because of its content. The film may be a decent affair, but it does succeed very well in unnerving you. If the story would have been better, this would have made for a standout feature with some truly graphic torture scenes. However, it's only a so-so affair that leaves a lot of ideas left to be explored. Those with weak stomachs may want to pass this one up, but to the hardcore horror hound, this is a must see, even if it leaves a bit to be desired in terms of story.
½
Based upon a popular comic book, Ichi The Killer is the story of a severely emotionally disturbed young man who is manipulated into expressing his impotence and repressed rage by butchering various gangland targets in a live action Manga piece that takes the Japanese fascination with amputation and mutilation to the ultimate extreme. Utterly bizarre in a way only splatter flicks ever are but executed with far more intelligence than most, it takes its violence to such an absurd extreme it becomes almost Loony Tunes silly, but the grim attention to detail Miike shows when portraying the blood and guts makes for a disturbing juxtaposition of styles and images. It certainly won't be to everyone's taste (particularly if you have a weak stomach!) and much of the plot is not satisfactorily explained, but it's an unforgettably visceral experience.
Ichi the Killer (Koroshiya 1) Quotes
There are no approved quotes yet for this movie.