Iceman
(1984)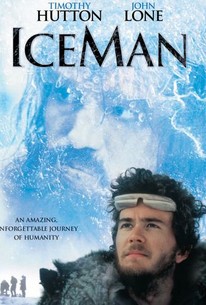 AUDIENCE SCORE
Critic Consensus: No consensus yet.
Movie Info
We first see Asian cave dweller John Lone as he wanders around what seems to be his natural habitat of some 10,000 years ago. Soon we learn that Lone is in a controlled environment in a scientific lab -- and that his frozen body was recently discovered during an expedition to the North Pole (hence the nickname "Iceman"). Scientists Lindsay Crouse and Timothy Hutton hope to learn to communicate with the Iceman, and in so doing discover what life was truly like for our Neanderthal ancestors. But other, less altruistic scientists want to dissect him and analyze his innards. With Hutton's help, the Iceman escapes, but soon both men realize that there's really no place for the ancient warrior in modern society. Although the settings are convincingly arctic, Iceman was filmed in Manitoba.
Critic Reviews for Iceman
All Critics (3) | Top Critics (1) | Fresh (2) | Rotten (1)
Although it can't have been easy, director Law Wing-cheong manages to defuse Yen's charismatic skill as a martial artist.
Can be enjoyed as both an adventure yarn and as a peep into our evolutionary past.
Audience Reviews for Iceman
½
What a completely wasted opportunity for a thought-provoking discussion about human nature, aiming instead at the most obvious with a dull development and a ridiculous third act that made me imagine what a talented director like Werner Herzog could have done with this material.
Carlos Magalhães
Super Reviewer
Some explorers find a man that has been frozen inside ice for thousands of years. This man (John Lone) is believed to be a Neanderthal and a hunter from the age of the caveman. Some scientists decide to thaw him and and do some experiments on him. However, after the caveman comes back to life, the scientists get more than what they bargained for. The scientists still want to use him as an experiment, except for one of them. One scientist (Timothy Hutton) starts to treat the caveman as a real person instead of a lab specimen. Since the caveman has been frozen for thousands of years, he doesn't know what to think when he observes a water hose, a helicopter, and some of the people's language and expressions. "Iceman" is one of the slowest paced movies I've ever seen. However, it is captivating to imagine a caveman coming back to life after being frozen for thousands of years. John Lone also does a great job acting as the caveman. Since it is a captivating idea and the actor did a great job, it keeps "Iceman" from being a boring movie. It's actually pretty good and overlooked. If you've ever wondered what life was like back in the age of the caveman and if you wonder what it'd be like if a person from this day in age was to meet a real caveman, I recommend getting "Iceman." NOTE: That was my Amazon review from the year 2001.
Jason Owens
Super Reviewer
A largely forgotten environmental drama which tries to be exciting, funny and moving but fails on all counts. A decent cast is given very little to get their teeth into. Overall, it's a preachy, boring but well-intentioned movie. Some nice scenery towards the end, though, and this could be your only chance to witness a sky-diving Neanderthal. Al Gore would love it.
Iceman Quotes
There are no approved quotes yet for this movie.