I Still Know What You Did Last Summer
(1998)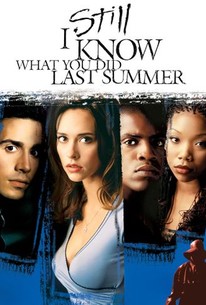 TOMATOMETER
AUDIENCE SCORE
Critic Consensus: Boring, predictable, and bereft of thrills or chills, I Still Know What You Did Last Summer is exactly the kind of rehash that gives horror sequels a bad name.
I Still Know What You Did Last Summer Photos
Movie Info
Julie James hasn't been the same since last summer. Still harboring guilt over her role in the death of fisherman Ben Willis, her college grades have slipped and her relationship with high school sweetheart Ray Bronson is on the rocks. After being turned down by Ray, Julie invites a classmate to join her when her best friend Karla Wilson wins an all-expense paid trip for four to the Bahamas. The moment they hit the picturesque island, havoc ensues. Their romantic getaway turns into a vacation of murder and mayhem that soon has Julie and friends running for their lives.
Critic Reviews for I Still Know What You Did Last Summer
Audience Reviews for I Still Know What You Did Last Summer
I remember this being way worse than it actually was (2017 rewatch). A rare case where I actually upped my original rating! It's not perfect, or a scratch on the first movie, and it's got a silly ending, but 90's nostalgia has been kind to this one. I enjoyed the cast (with the exception of Jack Black who is just grotesque as usual) and the slight, silly horror story
Nicki Marie
Super Reviewer
I Still Know What You Did Last Summer is a poorly made sequel to a very poor film. Both films are pointless with bad acting, story and poor attempts at scaring the audience. Teen horror films were crap for the exception of Scream. This sequel proves that much. This is a bad film with nothing entertaining about it. The cast is terrible and the story is a plain joke. It's no wonder that most of the cast are forgotten nowadays because they suck at acting. This is yet another bad attempt at cashing on an original film that wasn't good in the first place. This is a film that scrapes the bottom of the barrel and lingers around trying to figure out what it wants to do. This is one of the worst horror films ever made, and I've seen some bad ones and, this film just takes it to a whole new low. A terrible, misconstructed film that has nothing going on, maybe except to bore the hell out of the audience. It's no wonder why these films are in the discount bin of so many retail stores. They're terrible. If you love horror, don't watch this travesty. These films represent the lowest point in horror history along with others such as Urban Legends. This is simply a poorly made horror film that should be avoided by every fan of the genre.
Eric Alvarez
Super Reviewer
I Still Know What You Did Last Summer Quotes
There are no approved quotes yet for this movie.