I Saw What You Did
(1965)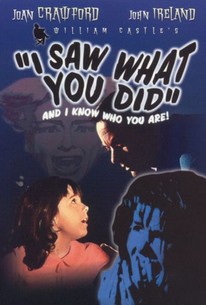 AUDIENCE SCORE
Critic Consensus: No consensus yet.
I Saw What You Did Photos
Movie Info
With true William Castle-style flamboyance the advertisements for I Saw What You Did intrigued non-etymologically inclined audiences by warning them that this suspenseful thriller was about uxoricide. He then had some of the theaters where the film was shown equipped with seat belts so frightened audience members wouldn't flee the theater in a panic. It was a spooky film, but wasn't all that scary. The tale begins upon a dark and foggy night as two teenage girls, bored with their baby-sitting job, decide to have a little fun and make some prank phonecalls. Every time some hapless person answers, they whisper conspiritorally "I saw what you did. I know who you are." Unfortunately, they happen to call a man who has just murdered his wife --- in the shower no less! He takes the call seriously and so sets off into the night to find the girls and silence them forever.
Critic Reviews for I Saw What You Did
All Critics (3) | Fresh (2) | Rotten (1)
Castle frequently employed gimmicks to promote his movies -- "Percepto" for The Tingler, "Emergo" for House on Haunted Hill, etc. -- but with this nifty thriller, the closest thing to a gimmick is the ingenious plot itself.
Envelhecendo terrivelmente mal, torna-se risível em função da trilha sonora nada apropriada, das péssimas atuações das protagonistas e do roteiro que desperdiça a boa premissa.
January 16, 2006 | Rating: 2/5
Audience Reviews for I Saw What You Did
½
This could have been a good movie, but it felt unbalanced. There are two worlds being shown: the young girls and the murderer. The parts with the girls keeps the movie light and fluffy and dull, but the part with the murderer start out dull and get more interesting towards the end. We never really learn a lot about the murderer, though. And there's a shower scene that obviously is supposed to remind us of Psycho. Overall, this movie could have been better.
Well let me say that, first of all, I am a William Castle fan. Second of all, I think the man WAS capable of making pictures that didn't involve gags or gimmicks. He made very few of them during the height of his career, mainly to silence critics who accused him of being a one-note filmmaker. That beind said, I was very disappointed with I Saw What You Did, which turned out to be (at least to me) one of the worst films he ever made. I haven't even seen them all yet and I know it has to be. This isn't even one of his movies where it's so BAD it's good. It's just bad. The kind of movie you'd find in the dollar bin at a rundown grocery store. Even so, I have to give it two stars. Mainly due to the fact that I'm actually a fan of William Castle and the concept is a pretty good one, but it just falls apart everywhere else in the process. The story is FAR longer than it needs to be. The intention, somewhat, is to turn screws in the tension itself, but it fails miserably...as does the horrible ending. The acting is terrible all around, even from a veteran Joan Crawford, who usually shines in these kinds of roles. The music is ludicirous, as well. I kept expecting to see kids on surfboards during moments in the score. What's sad is if a lot of that music had been excised from the flick, it might have fared a little bit better. And while they were at it, they could have trimmed the story down EXCESSIVELY and lopped off that goofy ending. It's just a mess altogether. See it if you're a William Castle fan. Otherwise, skip it...unless you want to see what NOT to do with a story.
Tim Salmons
Super Reviewer
½
I've rarely seen a film so sabotaged by its score. Great premise (see plot synopsis above), but the music -- crafted in that light, whimsical style of '60s sitcoms like "Bewitched," "I Dream of Jeannie," etc. -- makes every scene less scary than it should be. And what the heck is Joan Crawford doing in this film?
Eric Broome
Super Reviewer
I Saw What You Did Quotes
There are no approved quotes yet for this movie.