I Love You to Death
(1990)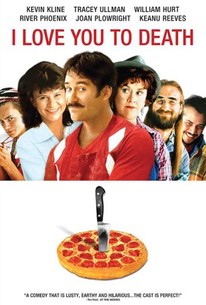 I Love You to Death Photos
Movie Info
Based on an actual event, Lawrence Kasdan's excursion into black comedy stars Kevin Kline as Joey Boca, a womanizer whose wife Rosalie (Tracey Ullman) finally learns of her husband's wicked ways and decides to kill him. However, Joey somehow manages to sidestep all of Rosalie's murder attempts.
Critic Reviews for I Love You to Death
Audience Reviews for I Love You to Death
Black comedy based on a true story of the wife of a pizza baker who finds her Italian husband cheating and consequently plans to murder him. Kevin Kline channels parts of his role in "Fish called Wanda" and works great as charming macho man who just can't take his hands off women and just can't die. The minor characters, especially Hurt and Reeves as doped killers, are fun and the black humor works great. The film is a bit slow at times and the solution maybe a tad too much sunshine and lollipops, even if that's how it really played out. But especially the scenes of murder and revenge, with Joan Plowright being a wonderfully vile and loyal mother, are fun and make it an entertaining film.
Though the premise is intriguing - particularly its basis in a true story - I Love You To Death doesn't quite come off. It never fully embraces black comedy in the way that it pretends to, and in the end it rings hollow. Beyond the believable Tracey Ullman, the characters are cartoony; it's a good thing in Kevin Kline's case, but it doesn't really fly with the rest of them. The first half works, but the second half limps to a cornball ending. Totally forgettable monument to 1990. Ick.
Daniel Perry
Super Reviewer
Black comedy with a great cast about a wife who tries to kill her husband after she catches him having an affair.
Candy Rose
Super Reviewer
I Love You to Death Quotes
There are no approved quotes yet for this movie.