I Live in Fear (Ikimono no kiroku)
(1955)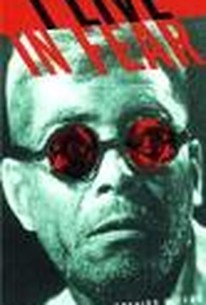 Movie Info
I Live in Fear presents Toshiro Mifune as an elderly, stubborn businessman so fearful of a nuclear attack that he resolves to move his reluctant family to South America.
News & Interviews for I Live in Fear (Ikimono no kiroku)
Critic Reviews for I Live in Fear (Ikimono no kiroku)
Audience Reviews for I Live in Fear (Ikimono no kiroku)
½
It is missing a little something but it is well worth the watch. Toshiro Mifune gives another good performance, this time as a tough old man who is paranoid about the atomic bomb. I found this difficult to relate to since Icannot begin to imagine what people must have thought 10-15 years after Nagasaki and Hiroshima. But I have heard that people indeed lived in fear of one day just having a bomb dropped on them that would be capable of whipping out an entire city. The film is great for showing how a paranoid person's mind works and how it will not listen to reason, but instead just dwell on the one fear they have. In the film, Mifune tries to relocate his family to Brazil in hopes of living safely away from the threat of being killed by an atomic weapon. His family refuse and take him to court to try to stop him from spending money in pursuit of his 'dream'. Strong performances all around bring the conflicts between family members to life. This was a very interesting film because it is difficult to side with either Mifune or his family. Throughout the film, both give reasons for the audience to give them support and both give reasons for the audience to side with their opponent. Nobody seems to be completely right and worthy of our support, but everyone in the film is always deserving of our sympathy for the tough situation that they are in. Kurosawa again shows post-war industrial Japan, however his focus is not the city but the people and their mentality. His film shows how complex family squabbles can be and indeed are in real life. Not a masterpiece but a good solid effort from Kurosawa.
"I Live in Fear" starts with Dr. Harada(Takashi Shimura), a dentist, about to do his civic duty by being an adjudicator in family court. The case he gets is a real doozy. Kiichi Nakajima(Toshiro Mifune, even more amazing than usual) is a wealthy foundry owner who thinks nuclear war is unavoidable, so he first tries to build a shelter in a remote part of the country. He abandons it partially built when even that does not turn out to be totally safe. His next idea is to move his entire family to Brazil, at which point they file for an injunction to delcare him mentally unfit. Directed by Akira Kurosawa, "I Live in Fear" is a deeply unsettling movie made in 1955 at the height of the Cold War in Japan where nuclear bombs have already been exploded in Hiroshima and Nagasaki. This is also a country that had a ringside seat for MacArthur's attempt to start World War III. Nothing could be done at the time, leaving the population feeling helpless, until a thriving anti-nuclear movement could get started. So, maybe a case could be made that Nakajima is not crazy, under the circumstances. He is not afraid for himself, for he has lived a good life. Perhaps too good a life since he has had at least three mistresses.(I guess mistresses might be an open secret in Japan but still...) Now, his concern is for his children and grandchildren but they all have their own lives by now. So, in trying to save the future for those he loves, he is only making their present miserable.(Excuse me, while I borrow a line from "Quantum Leap.")
½
this is a very profound film. mifune nails his portrayal of an old man losing his grip, and you see that he doesnt genuinely go crazy because of the reasons his family thinks he's crazy, he goes crazy because of his family themselves. shimura's character was great and even underused, and he is the character with the real moral dilema that the audience can relate to. very good and different film.
I Live in Fear (Ikimono no kiroku) Quotes
There are no approved quotes yet for this movie.