The I Inside
(2005)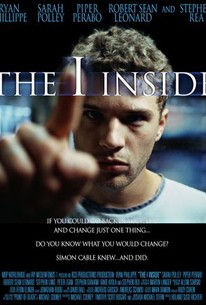 Movie Info
A man (Simon) awakens in a hospital not recalling the last two years as he begins to find out things from his past he discovers his ability to move from the year 2002 to the year 2000. By doing this he meets a link between the two time periods.
Critic Reviews for The I Inside
Audience Reviews for The I Inside
½
That is $7 and one and a half hours of my life I want back. Boring, confusing (yes, the two can co-exist), most of this is Ryan Phililipe in a hospital, going back in time between two different events. Nothing makes sense, it seems he is losing his mind. I just about lost mine too. With boredom. Sarah Polley and Piper Perabo are good, but they are not in it enough. The stupid ending made me groan out load. I have no idea if he was crazy or dead or what, and I don't really care, either. Seldom have I been so disappointed in a movie.
Nicki Marie
Super Reviewer
½
What happened to Ryan's career? Another movie where the main character was really dead the whole time? maybe? maybe not? ugh...my head hurts.
Cynthia S.
Super Reviewer
My predicted rating: 3.5 stars The time travel in this film was merely between two points in time and with an added plot of memory loss this became a story revealed between the two points in time. A bit of a mind bending film with a sudden ending which left me feeling disappointed after anticipating a big twist.
Lady D'arbanville
Super Reviewer
The I Inside Quotes
There are no approved quotes yet for this movie.