Hustle & Flow
(2005)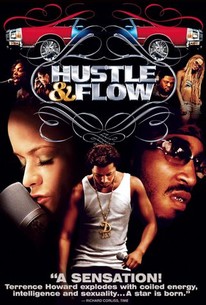 Movie Info
One man's struggle to rise above his circumstances prompts him to try a career in music in this acclaimed drama from writer and director Craig Brewer. Djay (Terrence Howard) is a low-level pimp and drug dealer who scraped together a living in the ghettos of Memphis, TN. Djay isn't happy with his life, and the realization that he's reached the same age when his father unexpectedly died has made him start thinking about changing his ways. Djay has always had a gift for spinning stories, and after picking up a cheap keyboard, he begins picking out beats to go along with his rhymes. After bumping into an old high-school buddy who works in gospel music, Key (Anthony Anderson), Djay decided to take the plunge and remake himself as a rapper. With the technical know-how of Key and the musical input of a local beat maker named Shelby (DJ Qualls), Djay begins turning his way with words and his first-hand knowledge of the street life into music, as his two live-in girlfriends, Lexus (Paula Jai Parker) and Shug (Taraji P. Henson), add their musical input and emotional support and Nola (Taryn Manning) continues to turn tricks to pay the bills. When local boy-turned-nationwide hip-hop star Skinny Black (Ludacris) comes to town to pay a visit to Arnel (Isaac Hayes), a club owner friendly with Djay, he sees an opportunity to put his demo in the hands of someone who can bring his music to the masses, though it turns out to be far more difficult than he expected. Hustle & Flow had its world premiere at the 2005 Sundance Film Festival, where it received a number of rave reviews and took home the Audience Award. ~ Mark Deming, Rovi
News & Interviews for Hustle & Flow
Critic Reviews for Hustle & Flow
Audience Reviews for Hustle & Flow
A pimp tries to make it as a rap star with the help of his hookers and an old friend from the neighborhood. Terrence Howard turns in a fantastic performance, utterly convincing as Djay, a pimp with musical aspirations. His character seems real, fleshed out, and interesting, and Howard's work carries the film. The story is fairly basic, but I think the biggest problem is its misogyny. The filmmakers have to be aware of the ridiculous irony inherent in having a prostitute sing "Whoop that trick!" or "It's hard out here from a pimp." It's too ironic to be unintentional, yet I can't figure out what the intention is. After all, the film identifies with Djay's journey to such a degree that I have a hard time thinking of this film as satire, and trying to prove that prostitutes become agents in their own denigration isn't a productive insight. Overall, this film is worth seeing if only for Terrence Howard.
Jim Hunter
Super Reviewer
DJay: I'm here trying to squeeze a dollar out of a dime, and I ain't even got a cent man. "Everybody gotta have a dream." Hustle & Flow is one of those movies that I didn't want to see end. The film had a lot going for it, from a natural knowledge of the small time hustlers and dealers to the surprisingly good music; and of course there's Terrence Howard in the role that really gave him a name.  DJay is a smalltime pimp and drug dealer living in Memphis with three of his women and a small child. He's struggling with life as he enters a mid-life crisis because of a memory of his father dying at the age he is now. To try to improve his life, he begins rapping. He meets an old school friend who is now a gospel music producer, and brings him and another producer on to help make DJay's demo tape. This movie isn't overly original in anything it is doing, but the voice is good. The dialogue hits like a hard bass beat the whole film long. Especially when the words are coming out of Howard's mouth. Howard does a phenomenal job with his dialogue and the accent of the character. He basically is this movie and with it resting on his shoulders, it succeeds. The content isn't for everyone as there's a lot of demeaning language toward women and what not, but it can't be slandered for its content. The content is dead on and this fictional story of a hustler turned actor has a basis in real life as many rappers used to be exactly what DJay is. As far as a urban, music, crime drama goes; Hustle & Flow is an entertaining and well-made one to get into. 
Melvin White
Super Reviewer
½
I hesitated for 8 years before finally seeing Craig Brewer's debut and I have to say I was very impressed. The biggest surprise to me was the amazing dialogue (written by Brewer as well), it's like if Tarantino made a film about southern hip hop, this would be it. Great performances by the entire cast.
Graham Jones
Super Reviewer
Hustle & Flow Quotes
There are no approved quotes yet for this movie.