Hush...Hush, Sweet Charlotte
(1964)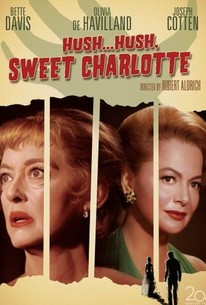 Hush...Hush, Sweet Charlotte Photos
Movie Info
An unusually long pre-credits sequence establishes the roots of faded Southern belle Charlotte's (Bette Davis) insanity; she'd been witness to the dismemberment murder of her fiance (Bruce Dern) and the suicide of the murderer, her own father (Victor Buono). Years later, Charlotte remains a recluse in her decaying southern mansion, zealously guarding the secret of her father's guilt; she is cared for by her slatternly housekeeper (Agnes Moorehead). When her house is targeted for demolition, Charlotte fears that this will uncover her lover's body parts and thus confirm that her father was a murderer. She desperately summons her seemingly sweet-tempered cousin Miriam (Olivia De Havilland) to help her fight off the house's destruction. Miriam brings along the family doctor (Joseph Cotten) to calm Charlotte's frayed nerves. When Charlotte begins to be plagued by horrific visions of the homicide/suicide of so long ago, it appears that she has gone completely insane. But soon we learn who is behind these delusions...and why. Hush Hush Sweet Charlotte was intended by director Robert Aldrich as a follow-up to the successful Joan Crawford/Bette Davis horror piece Whatever Happened to Baby Jane (1962). Ms. Crawford was originally slated to play Miriam, but became seriously ill shortly before filming started. Davis, who disliked Crawford intensely, suggested that the role of Miriam be filled by her best friend, De Havilland. On the first day of shooting, Davis and DeHavilland pulled a "Ding Dong the Witch is Dead" routine by toasting one another with Coca-Cola--a catty observation of the fact that Joan Crawford's husband was an executive with the Pepsi Cola company! ~ Hal Erickson, Rovi
News & Interviews for Hush...Hush, Sweet Charlotte
Critic Reviews for Hush...Hush, Sweet Charlotte
Audience Reviews for Hush...Hush, Sweet Charlotte
½
Bette Davis as the well past her prime ingenue down Louisiana way still pining for "the one who got away" back in the old cotillion days. DeHavilland is her sensible cousin trying to keep matters that are near hysteria somewhat rational while Joe Cotton is the caring family doctor never far from a bottle of hooch. Only nothing is as it seems to be in this overwrought tour through the moldy Southern gothic. Everyone is obviously having a high old time.
Kevin M. Williams
Super Reviewer
Two years after their huge success with "What Ever Happened to Baby Jane?" (1962), director Robert Aldrich teamed up once more with Bette Davis to make "Hush...Hush, Sweet Charlotte." The films are so similar that they're often spoken of in the same breath. They both embody the same type of gothic horror, and both depict two middle-aged women in a battle royale. In "Baby Jane," Davis starred opposite Joan Crawford. (Davis won her 11th and final Oscar nomination for her work in "Jane.") Here it's Olivia de Havilland up against Davis. Both films also have a campy aspect, making them very popular with middle-aged gay men. But the campiness is not extreme. Straight men fear not: "Jane" and "Charlotte" are serious works of psychological horror that shouldn't be missed. Remember that Aldrich mostly made "guy movies," including "Kiss Me Deadly" (1955), "The Dirty Dozen" (1967), and "The Longest Yard" (1974). Aldrich is no Douglas Sirk. ***************************** Charlotte, played by Davis, is a woman who has spent most of her adult life as a recluse, after a gruesome murder occurs when she is about 20. She was having an affair with a married man (a very young Bruce Dern), outraging many people, including her father (Victor Buono, who was also in "Baby Jane") and the man's wife (played beautifully by Mary Astor). When the man dumps her, Charlotte goes into a tailspin of rage and despair, exclaiming, "I could just kill you!" Ten minutes later, the man is attacked by a maniac with a meat cleaver. The big mystery is, Who killed him? The whole state of Louisiana thinks it was Charlotte, and she is shunned by just about everyone. But the case goes unsolved. This all happens in the first five minutes, in a very quick overture. The vast majority of the film takes place 40 years after the tragedy. Charlotte, who has barely ever left her gloomy mansion in four decades, struggles to keep her home as the state tries to demolish it to make way for a modern highway. Charlotte's only companion is a maid named Velma (brilliantly played by Agnes Moorehead, who should have gotten a Supporting Actress Oscar nomination for her work here). The semi-educated Charlotte asks her big-city cousin (de Havilland) to come back to the old plantation and help save it. Meanwhile, Charlotte is having more frequent delusions, hearing the voice of her long-departed lover in the spooky, gothic mansion at night. Is someone trying to scare her to death or drive her insane? Or is there something supernatural going on in the house? Or is Charlotte just suffering from a guilty conscience? All I'll say is that the truth is uncovered, and it's startling. "Charlotte" keeps you guessing to the very end and keeps you on the edge of your seat through some rather macabre goings-on. "Charlotte" has a significant body count and many colorful characters. Davis's performance is at times over-the-top but alway magnetic. Her Charlotte is like a tornado, destroying everything in her path. Like Davis herself, Charlotte is a force of nature. But is she a victim struggling mightily against those trying to torment and kill her, or is she a cold-blooded maniac getting her just comeuppance? And who's going to end up dead?
William Dunmyer
Super Reviewer
"So Fucked Up" highlight: the plot twist
_kelly .King
Super Reviewer
Hush...Hush, Sweet Charlotte Quotes
There are no approved quotes yet for this movie.