Hulk
(2003)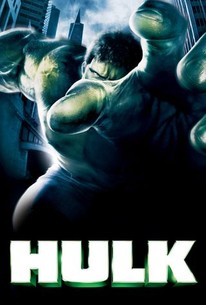 TOMATOMETER
AUDIENCE SCORE
Critic Consensus: While Ang Lee's ambitious film earns marks for style and an attempt at dramatic depth, there's ultimately too much talking and not enough smashing.
Movie Info
Ang Lee directs the live-action feature film The Hulk, based on the Marvel comic book created by Stan Lee and illustrated by Jack Kirby. Emotionally stunted Dr. Bruce Banner (Eric Bana) is part of a research team at the University of California at Berkeley. Corporate hustler Glenn Talbot (Josh Lucas) takes notice of the lab and makes plans to take it over. Then Bruce accidentally gets hit by an experimental ray and grows into a huge beast, destroying the lab in the process. A creepy janitor who claims to be his real father, Dr. David Banner (Nick Nolte), starts to secretly use the experimental ray on himself. He creates some mutant dogs and sends them after Bruce's lab mate and ex-girlfriend Betty Ross (Jennifer Connelly). After Bruce saves her life in the form of the Hulk, she lets her distant father, General Ross (Sam Elliott), take him to an abandoned army base in the desert. However, Glenn Talbot takes over the operation and wants to patent the creature's superpowers for his own profit, so he holds Bruce unconscious in an isolation tank. When provoked, Bruce turns into the Hulk and makes a break for San Francisco, leading to a desert chase sequence involving military aircraft, tanks, and bombs. Only the sight of Betty can make him turn back to his human form. When he is eventually captured, Dr. David Banner shows up for a final confrontation with his son and his old adversary, General Ross. ~ Andrea LeVasseur, Rovi
News & Interviews for Hulk
Audience Reviews for Hulk
Ang Lee tried way too hard to make this look like a comic book with the scene within a scene style sequences starting to get in the way of the storytelling. It started aggravating and annoying me because I would have much rather just had it back to normal. The film does get criticized a little too much among comic book fans for trying something new and not having enough action for a Hulk film (something they kind of overcorrected in The Incredible Hulk). It's not all successful, but the plot is actually pretty interesting and held my attention long after most comic book films. Eric Bana was the first to try out the character of Bruce Banner and while he is not terrible, he is certainly the worst of the three actors who have portrayed the character so far. He is just kind of bland and lacks personality. Jennifer Connelly is actually pretty good as Betty Ross (certainly better than Liv Tyler) while Sam Elliot and Nick Nolte chew on the scenery as the General and Bruce's father. The special effects were very impressive for their time and they have held up admirably. It doesn't look as good as comic book films do now, but it doesn't look terrible and out of date like other older ones. Ultimately, Ang Lee tried to cram too much into Hulk. It's an entertaining misfire that has some fascinating attributes and keeps my attention, but also lacks the fun stuff that many fans were looking for. They have yet to make the ultimate Hulk film, but hopefully they give it another try down the line.
Josh Lewis
Super Reviewer
½
The Hulk in this film looks very fake. Disappointed with the story as well. It seems like it had potential but just missed the mark. The phycological aspects of the film are great, but everything else falls short. Good effort.
Eric Shankle
Super Reviewer
Ang Lee's adaptation, though visually remarkable, still fails to build solidification for the franchise. Very subtle on the action and more of a concern with the dialogue, Hulk's smash wasn't strong enough to capture audiences. 2/5
Eugene Bernabe
Super Reviewer
Hulk Quotes
There are no approved quotes yet for this movie.