How to Get Ahead in Advertising
(1989)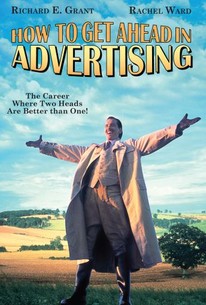 Movie Info
Richard E. Grant is a tyro of bile in Bruce Robinson's stunningly abrasive satire How To Get Ahead in Advertising. Grant plays Dennis Bagley, a belligerent and dynamic advertising executive who suffers a creative block when he is unable to figure out how to market a new pimple and boil remedy. As he points out, "Everybody knows that there is no product on the market which can cure a boil except the person who has one." Living at a country estate with his beautiful and caring wife Julia (Rachel Ward), Bagley ponders the pimple account over a weekend in which a dinner party is planned for a group of shallow acquaintances. At the dinner party, Bagley goes off the deep end -- ranting against his guests and the base money-lust of the advertising world. After Bagley's breakdown, he develops a physical manifestation of his mental turmoil -- a boil on his shoulder. The boil grows bigger and bigger until it sprouts eyes, teeth and a mustache and begins to lecture him in a surly and clipped tone of voice. It grows as big as Bagley's own head and it gets to the point where Bagley can't tell which is the head and which is the boil.
Critic Reviews for How to Get Ahead in Advertising
Audience Reviews for How to Get Ahead in Advertising
One of my favorite films and for sure one of the best comedic performances is put in by Richard E. Grant. Actually I am very surprised by all the negative reviews I've read on here.
Graham Jones
Super Reviewer
I'm not really sure why I watched this movie, it was so strange. It was interesting at the beginning but by the end I just didn't care anymore.
½
About to suffer a nervous breakdown due to a looming deadline to create a pimple cream campaign, a hot shot advertising exec grows a boil on his neck, which soon develops a face and a nasty personality. Does he need a dermatologist, or a psychologist? This weird and witty advertising satire from the director of WITHNAIL AND I has been sadly neglected over the years.
How to Get Ahead in Advertising Quotes
There are no approved quotes yet for this movie.