Houseguest
(1995)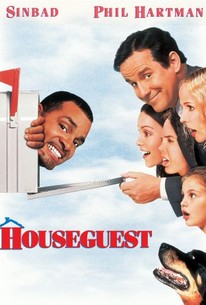 TOMATOMETER
AUDIENCE SCORE
Critic Consensus: Perplexingly unfunny given the involvement of its two hilarious leads, Houseguest wears out its welcome almost immediately.
Movie Info
Sinbad offers some unusual advice on how to make friends in this wacky comedy. Kevin Franklin (Sinbad) is a guy who dreams of starting his own business. However, getting it off the ground is another matter altogether, and soon Kevin discovers that the two loan sharks who fronted him money want to be paid, and paid promptly, otherwise Kevin will be spending some time in the hospital. On the run through an airport, Kevin is trying to find a way out when he overhears Gary Young (Phil Hartman) wondering where his friend is. It seems that Gary has arranged a reunion with an old friend from childhood, but since he hasn't seen him in 25 years, he has no idea what he looks like today, beyond the fact that he's black. Kevin fits the bill that far and claims to be Gary's long lost buddy, which Gary buys hook, line, and sinker. Gary seems to enjoy bonding with his old friend, and Kevin likes staying at Gary's fine home (and raiding his large icebox), but Kevin discovers that impersonating a stranger is a lot more complicated than he expected after he's forced to perform oral surgery and give a speech at a grade school "Career Day" presentation. However, this is all small potatoes on the "oh, no" scale when the loan sharks track Kevin back to Gary's home in the suburbs.
Critic Reviews for Houseguest
Audience Reviews for Houseguest
I remember that we had this movie on VHS and that I really liked watching it when I was younger. I remember it being very entertaining at the time. Sinbad stars as a con artist who is trying to hide from some mobsters. In an airport he gets mistakenly befriended by a geek lawyer who thinks he's a long lost childhood friend. He becomes a house gest and makes himself comfortable in the lawyer's home and really gets to know his family and neighbors. This movie is very funny and well suited to watch with your family, I know I loved to watch it back then.
Naughtia Nahazhina
Super Reviewer
HILARIOUS! In "Houseguest," Kevin Franklin (Sinbad) stars as a houseguest that wasn't supposed to be a houseguest. Kevin is in trouble with a few people and they threaten to kill him if he doesn't give them $50,000 the next day. Kevin ends up pretending to be a long lost friend of Gary (Phil Hartman) and his family. Kevin is going to be a houseguest for awhile just so he can stay away from the madmen that he's in trouble with. But to be the family's houseguest, he has to pretend to be the REAL long lost friend of Gary, and also pretend to be what Gary's real friend is known for, for being one of the best dentists there are. I don't see why "Houseguest" isn't a lot more popular than it is, it's one of the funniest movies I've ever seen without a doubt, and I've seen a lot of great comedy movies. Sinbad provides most of the laughs with his crazy antics. I couldn't quit laughing at the part when Sinbad washes his hands with novacaine and he finds out that his hands are real numb while he's pretending to be a dentist. But that's far from being the only hilarious part of the movie. "Houseguest" is hilarious all the way from when he first becomes the houseguest at the beginning of the movie all the way to the song that talks about food in the credits after the movie. I recommend "Houseguest" to anybody who likes hilarious movies. Whether you like Sinbad or not, you should be able to enjoy this movie a lot. NOTE: That was my Amazon review from the year 2001.
Jason Owens
Super Reviewer
Sinbad plays a funny character that sneaks into a familes house to dodge some mobsters, posing as a long-time friend. The plot is predictable, it seems like its been done before, and its not really that orginal... But Sinbad and Hartman both play great roles that bring the movie to life. It actually turns out to be classicly funny and a great family film for all too see
Bobby Hobbs
Super Reviewer
Houseguest Quotes
There are no approved quotes yet for this movie.