The House on Carroll Street
(1988)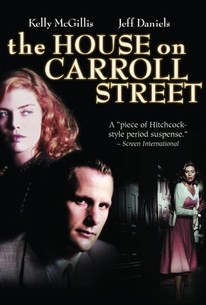 Movie Info
Yes, there are commies under the bed. But are there Nazis there too? Emily Crane (Kelly McGillis) is a modestly successful Life photo editor living in 1950s New York, until she is called before the Senate Un-American Activities Committee to testify about her "communist" associations. When she refuses to divulge the names of friends in her civil liberties group, she loses her employment and her friends. In desperation, she takes a job reading books for Miss Venable, a somewhat crotchety lady (Jessica Tandy) who lives in a quiet residential neighborhood. Then, while taking a break in Miss Venable's back yard, Emily overhears something from the house behind that compels her to investigate and leads her eventually to conclude that it is the headquarters of a group smuggling in ex-Nazi scientists for some mysterious purpose. Meanwhile, she is being harassed by two FBI men, on behalf of the Senate Committee, as well as by a sinister, McCarthyite, Senate investigator named Salwen (Mandy Patinkin). One of the FBI men, Cochran (Jeff Daniels), takes a liking to Emily and humors her by agreeing to investigate her suspicions. This quiet mystery is a nostalgia piece. It's '50s backgrounds are authentic and the plot device -- an innocent becoming entangled in an unbelievable conspiracy -- is closer to one of Hitchcock's masterpieces of that period (e.g., North by Northwest) than to Reservoir Dogs or Speed. The people seem to be from a simpler time, too, when the distinction between good and evil was clearer. Emily shines with idealistic integrity and the naive Cochran is so honest that he finds it impossible to deceive the target of his investigation. There is even a terrifying, "acrophobe's nightmare" scene played out in a dome high above Grand Central Station. For those tired of endless shoot-em-ups and car chases, this is the mystery to choose.
Critic Reviews for The House on Carroll Street
All Critics (6) | Top Critics (1) | Fresh (4) | Rotten (2)
There is a kind of movie sequence which Alfred Hitchcock always did well, and which most later directors have chosen not to do at all.

Probes the moral issues involved in recruiting former Nazis to secure America's scientific lead over the Russians in the Cold War.
Audience Reviews for The House on Carroll Street
½
I've always liked Kelly McGillis (Witness and Top Gun come to mind), so I had to watch this movie. The House on Carroll Street' is a slow-paced mystery, where the most excitement is Kelly and the bad guy crawling along the wall 10 stories up in Grand Central station. It is pretty bad if the 1950's United States of America "officially" accepted Nazis as immigrants in order for them to work on developing weapons.
½
This is an awesome movie that I never heard about when it was released in 1988, due to being out of the country and movie watching was very limited. Kelly McGills who was my heartthrob in Witness, and who played in Top Gun, played the role of Emily Crane in this later movie, and she was excellent and convincing. On the other hand Jeff Daniels its hard to place him anywhere else then Dumb & Dumber. This movie is time set right after WWII and a high political official is helping smuggle Nazi war criminals into the United States and Emily discovers this and with the help of a Stray FBI officer she tries to put an end to it. This was a very enjoyable film. 4 1/2 stars.
Bruce Bruce
Super Reviewer
A passable movie that has not aged well.
John Ballantine
Super Reviewer
The House on Carroll Street Quotes
There are no approved quotes yet for this movie.