House of Whipcord (Photographer's Models)
(1974)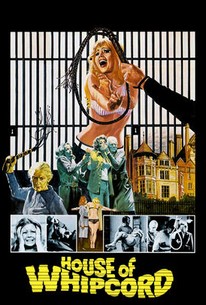 AUDIENCE SCORE
Critic Consensus: No consensus yet.
Movie Info
In this British exploitation film, an elderly husband and wife begin torturing young women whose behavior offends their puritan sensibilities. ~ Jason Ankeny, Rovi
Critic Reviews for House of Whipcord (Photographer's Models)
There are no critic reviews yet for House of Whipcord (Photographer's Models). Keep checking Rotten Tomatoes for updates!
Audience Reviews for House of Whipcord (Photographer's Models)
½
Opening with the words "This film is dedicated to those who are disturbed by today's lax moral codes and who eagerly await the return of corporal and capital punishment", it would be easy to assume that Pete Walker's 'House of Whipcord' is another example of the morally astray British sexploitation of the 70s, such an assumption, however, would be wrong. What is presented here isn't another entry in the typically formulaic 'women in prison' sub-genre, but instead a politically back dropped criticism of punishment via pain. We follow Anne-Marie (Penny Irving), a French model who falls in love with a mysterious man called (wait for it) Mark E. Desade and agrees one weekend to meet his mother. Upon arrival it becomes apparent to Anne-Marie that this isn't a regular visit, and soon she finds herself captured in the only prison left that utilises capital punishment. It's needless to say that this film is grim, lacking the sense of good time excitement that usually accompanies films in the exploitation genre, and replacing it with a grim world full of sour-faced prison wardens and obnoxiously unlikable characters. Walker paints a dark picture both hypothetically and literally (annoyingly some shots are so dark you can't tell what is happening), and builds a bleak atmosphere impressively, relying on the film's overarching tone rather then visual thrills. Where the film falls apart is in its plot, which is tedious in places and descends into an extravaganza of continuity and plot issues the longer it goes on. Also on the downside is the presented acting, which ranges from absolutely awful to pretty bad. Despite its problem though 'House of Whipcord' somehow remains watchable for the extent of its runtime.
Cameron Sherwell
Super Reviewer
½
A notorious British shocker from the Seventies in which Barbara Markham runs a correctional institution for girls who have been let of lightly by the British courts. Usherette, I demand a refund!!! I only watched this because I thought it would be enjoyably awful and it turns out be tolerably well acted and directed. There's even suspense and a couple of nifty twists! This is an outrage!!! Joking aside, House of Whipcord isn't bad at all. The photography is very murky, making it difficult to see what is going on much of the time, particularly in the outdoor scenes, but with better production values it could have been a little gem. Mischievously, the movie is prefaced by a plea for the reinstatement of corporal and capital punishment and then proceeds to show the systematic torture and murder of a group of innocents held on trumped-up charges. Of course, most of the nastiness is suggested and it's all very tame by today's standards, though the film remains memorable for its oppressive atmosphere, the bleakness of its resolution and the unusual amount of sympathy extended to the villains. As one might expect, the token lesbian warders are present and correct - there's even a whiff of incest between Markham's character and her son - but it's interesting to note that House of Whipcord is actually less prurient than much of the otherwise insipid, more mainstream horror fare being released around the same time.
½
Again, terrible exploitation: Sex, violence, cruelty, sadism, and sexual perversion. Another inspiration for my burgeoning screenplay, Attack of the Killer Nazi Lesbian Sadist Vampire Nuns.
Steve Strange
Super Reviewer
House of Whipcord (Photographer's Models) Quotes
There are no approved quotes yet for this movie.