House of Wax
(2005)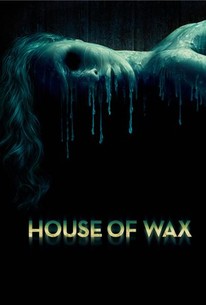 TOMATOMETER
AUDIENCE SCORE
Critic Consensus: Bearing little resemblance to the 1953 original, House of Wax is a formulaic but better-than-average teen slasher flick.
Movie Info
A road trip to the biggest college football championship of the year takes a turn for the worse for Carly, Paige and their friends decide to camp out for the night before heading to the game. A confrontation with a mysterious trucker at the camp site leaves everyone unsettled, and Carly has her hands full trying to keep the peace between her boyfriend Wade and her hot-headed brother Nick. They wake up the next morning to find that their car has been deliberately tampered with, leaving them with no transportation. At the risk of being stranded, they accept a local's invitation for a ride into Ambrose, the only town for miles. Once there, they are drawn to Ambrose's main attraction -- Trudy's House of Wax, which is filled with remarkably life-like wax sculptures. But, as they soon discover, there is a shocking reason that the exhibits look so real. As the friends uncover the town's dark secrets, they are stalked by a demented killer and find themselves in a bloody battle for survival. The group must find a way out of Ambrose -- or become permanent additions to the House of Wax.
News & Interviews for House of Wax
Critic Reviews for House of Wax
Audience Reviews for House of Wax
½
An infuriating movie full of clichés and stupid characters who are there only to be slaughtered in some juicy, gruesome deaths - which happen to be the only effective thing in this idiotic mess, I must add. But we have to go through a lot of nothing to get to the good part.
Carlos Magalhães
Super Reviewer
I was kind of looking forward to this remake. Obviously the main reason was because Paris Hilton was going to get killed on screen. Everyone was talking about it; unfortunately this remake of the Vincent Price classic is a terrible film. The film is plagued by a terrible cast; I mean they got Paris Hilton in the film. Right off the bat, it should give you a hint that this film wouldn't be great, right? Her other cast mates are very bad as well, Elisha Cuthburt though very attractive, can't act. Brian Van Holt here as the villain is fairly good, but unfortunately, his acting doesn't redeem this piece of garbage. House of Wax suffers from the usual remake formula, a star studded teen cast, that teenagers can relate to with cheap scares and gore. Don't get me wrong, I love gore and cheap scares. But when there well done, not when they're done in a way that demands it, like if it's the only trick the filmmaker can generate out of his film, then it doesn't work. House of Wax lacks anything that can make a good horror film appealing to its audience, and when it's finally over, you're left irritated by how stupid this film truly was. A very disappointing film and one that could have been good. Instead, House of Wax is nearly 2 hours of wasted potential on screen, something that could have been great, but is ultimately sunk by its terrible cast. Luckily Director Jaume Collet-Serra made a much better film in Orphan, which incorporated old school horror elements with thrills. However he clearly missed the mark with this film. Not even Paris' on screen death makes up for the film.
½
The best part of this film was probably Paris Hilton, and that's not even saying alot.
Eric Alvarez
Super Reviewer
House of Wax Quotes
There are no approved quotes yet for this movie.