House of Fury
(2005)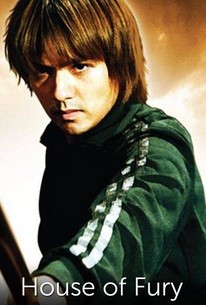 AUDIENCE SCORE
Critic Consensus: No consensus yet.
Movie Info
A pair of teenage kung fu experts find that their widowed father's far-fetched tales of adventure may hold more water than they thought in this martial arts adventure featuring fight choreography from The Matrix action director Yuen Woo Ping. In his day, Teddy (Anthony Wong) was a force to be reckoned with, but these days most of the aging chiropractor's energies are spent looking after his rebellious son Nicky (Stephen Fung) and his thrill-seeking daughter Natalie (Gillian Chung). Despite the fact that the young pair cringe when their father begins waxing nostalgic about the good old days, what they don't realize is that their father is still fighting the good fight by doing his best to protect other retired agents. When their father is kidnapped by a vengeful nemesis looking to settle a score from the past, Nicky and Natalie jump into action with Natalie's butt-kicking boyfriend Jason (Daniel Wu) to take on the bad guys and ensure that their father has a safe and happy homecoming.
News & Interviews for House of Fury
Audience Reviews for House of Fury
½
Stephen Fung pulls double duty in House of Fury.
For what transpires in 95 minutes, there isn't much meat attached to the story. It is straightforward, easy to follow, but it's also good clean fun at the same time. Definitely not a laugh-er in any way; however, the humor and even a few of the characters are quirky enough to answer the comedic portion of this film.
The other piece of this picture is the action. Scattered throughout are highly stylized martial arts sequences that are no doubt the most memorable segments of the film. Yuen Woo-ping's choreography can make anyone look like a professional on screen.
The atmosphere of the film and character personalities shroud what could be less than stellar acting. Anthony Wong, Stephen Fung, and Gillian Chung take up a bulk of the minutes, while Charlene Choi, Daniel Wu, and Michael Wong fill in the gaps.
All in all, House of Fury becomes a better than average watch thanks to the action.
½
Incredible action-comedy Hong Kong film from start to finish and it was executive produced by superstar Jackie Chan. You've heard the story before: two kids who don't believe their dad's way out tales find he was telling the truth when he's been kidnapped and they have to go rescue him. Its been the story of countless films most recently in films like Spy Kids. Anthony Wong gives the strongest performance in the movie giving some much needed gravitas to what is really a flawed character. Stephen Fung does a good job as always as the frustrated and weary Nicky, while Gillian Chung has improved greatly since her performance in The Twins Effect.
Dean McKenna
Super Reviewer
½
Fun and funny. Great running gag with Stephen Fung and Charlene Chou.
Anthony Valletta
Super Reviewer
House of Fury Quotes
There are no approved quotes yet for this movie.