The Hot Rock
(1972)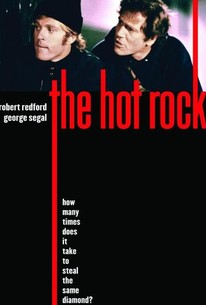 Movie Info
Peter Yates directs the early '70s comedy caper The Hot Rock, based on the Donald Westlake novel and adapted for the screen by William Goldman. Robert Redford stars as John Archibald Dortmunder, a former jewel thief just released from prison. His brother-in-law, Andrew Kelp (George Segal), recruits him to steal a diamond from a museum. They are hired by Dr. Amusa (Moses Gunn), an ambassador from Central Fatawi, whose people consider the stone to be sacred. John and Andrew assemble a team with Alan Greenberg (Paul Sand) and Stan Murch (Ron Leibman). They successfully pull off the job until the guards arrest them and Alan swallows the diamond. Alan's father (Zero Mostel) helps him break out of jail, which leads to a series of other heist attempts. ~ Andrea LeVasseur, Rovi
Critic Reviews for The Hot Rock
Audience Reviews for The Hot Rock
Enormously entertaining caper flick where a quartet of thieves don't have just one job, they have to pull off four - a museum, the state prison, a police station, and a bank - and all to get the same diamond! Redford is typical Redford as the cool-as-a-cucumber brains of the group, although he tends to get arrested and needs antacids to offset the nerves he internalizes. George Segal is the optimist and master locksmith, while Ron Leibman and Paul Sand round out the team, and we can't forget Zero Mostel as a crooked lawyer. There's always something amusing going on in William Goldman's script which adds offbeat color to the story, like an old woman who interrupts a gang meeting in the park to feed the birds, or a bum who steals Redford's watch when he's casing a building, or the getaway driver and his mother who listen to speedway recordings of roaring engines for recreation. Plus, there's a breathtaking extended helicopter ride through downtown New York City. If you love caper movies, you've got to see The Hot Rock. "Johnny.....Can't you go straight this time?" "I just don't have it in me."
Doctor Strangeblog
Super Reviewer
½
Afghanistan Banana Stand, See this movie! How was this not a hit? Robert Redford + George Segal + Zero Mostel + William Goldman + Peter Yates = a pretty fun movie.
Ken Stachnik
Super Reviewer
A band of criminals played by some great 70s actors, go out to steal a diamond, with hilarious results. I enjoyed this movie, it's not very different from other movies like that, but it's fun.
The Hot Rock Quotes
There are no approved quotes yet for this movie.