Homicidal
(1961)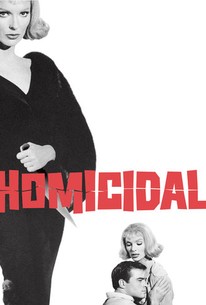 Movie Info
Homicidal represents producer/director William Castle's slant on Hitchcock's Psycho. The film concerns a young woman named Miriam Webster (Patricia Breslin) who seemingly has everything a girl could want - including a successful flower shop business, and a handsome beau, Karl (Glenn Corbett), who works as a pharmacist. Events take a turn for the worse, however, when Miriam's half-brother, Warren, returns from Europe - with a rather unpleasant friend in-tow: a blonde named Emily (Jean Arless). Emily promptly sets about destroying Miriam's life: the newcomer attempts to wheedle Karl away from Miriam, then rips the flower shop to pieces, then ultimately reveals a little taste for knife-wielding that directly threatens Miriam's safety. Like The Tingler and other Castle outings, this one originally featured a gimmick, preserved in the video release: a "fright-break" just prior to the climax, which allowed terrified audience members approximately 45 seconds to get out of their seats and leave the theater - to avoid the prospect of being "frightened to death." One look at Jean Arless's credit in the cast listing betrays the final twist in this one, directly (and unapologetically) lifted by Castle from Psycho.
Critic Reviews for Homicidal
Audience Reviews for Homicidal
I really liked this movie, it's one of Castle's best films, I think. The story starts with a murder mystery and gets more complicated and confusing, and ends with a crazy twist. It's a lot of fun, and I highly recommend it.
½
One of three William Castle films I took in this past weekend. And actually, as cheezy as it is, the most entertaining of the bunch. I thought I had the story figured out, but then the film went and threw me a couple of curve balls, A strange climactic scene that bore a resemblence to PSYCHO made me want to see the film again to fill in some details of how they got there.
Totally defanged as anything remotely resembling a thriller, horror or serious movie, but a relatively fun campy watch. I can't believe people never see the twist coming - I had it figured out within twenty minutes. Come on, have y'all never watched a movie before? Especially hilarious is William Castle coming to hold our hands in the last fifteen minutes of the movie, warning weaker members of the audience that what they're about to see is TRULY HORRIFIC and giving them a "fright break" to leave the theater if they are so inclined. Really, this is sort of an interesting look into a genesis of camp, where a genre piece has become so woefully dated (by means of technical composition and the changing of the form itself) that its worthlessness actually wraps back around to entertainment again. Fun, but too much of a Hitchcock ripoff to truly appreciate. Even in badness, originality is important.
Drew Smith
Super Reviewer
Homicidal Quotes
There are no approved quotes yet for this movie.