Home Again
(2017)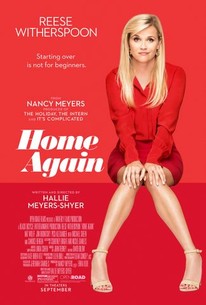 TOMATOMETER
AUDIENCE SCORE
Critic Consensus: Home Again gathers a talented crowd of rom-com veterans on both sides of the camera -- all of whom have unfortunately done far better work.
Movie Info
HOME AGAIN stars Reese Witherspoon as Alice Kinney in a modern romantic comedy. Recently separated from her husband, (Michael Sheen), Alice decides to start over by moving back to her hometown of Los Angeles with her two young daughters. During a night out on her 40th birthday, Alice meets three aspiring filmmakers who happen to be in need of a place to live. Alice agrees to let the guys stay in her guest house temporarily, but the arrangement ends up unfolding in unexpected ways. Alice's unlikely new family and new romance comes to a crashing halt when her ex-husband shows up, suitcase in hand. HOME AGAIN is a story of love, friendship, and the families we create. And one very big life lesson: Starting over is not for beginners.
News & Interviews for Home Again
Critic Reviews for Home Again
Audience Reviews for Home Again
½
Reese Witherspoon stars in the lighthearted comedy Home Again. After a drunken one-night stand on her 40th birthday Alice, a recently separated single mother, invites three struggling filmmakers to stay in her guest house, and they soon begin to bond with her daughters and become protective of her when her husband attempts a reconciliation. Unfortunately the script is rather weak and doesn't really explain why Alice and her husband separated, leaving the audience uncertain as to whether they should want her to move on or reconcile. In fact, the film plays it safe in almost every way; there are no villains, no real acts of betrayal, or conflicts that aren't easily resolved. And the comedy is pretty tame as well. An entertaining but forgettable film, Home Again has no ambition or passion to it.
Dann Michalski
Super Reviewer
½
Despite whatever curb appeal "Home Again" might have, its address is squarely situated in the most bland hamlet I've seen in a while. It's the most uninteresting romantic comedy since whatever Adam Sandler's last film was.
Christian C
Super Reviewer
½
Really disappointed. I had read some reviews suggesting this isn't a good movie, but I tend to enjoy Reese Witherspoon's chick flicks, so I was prepared to judge for myself. So many things wrong here, I barely know where to start. First of all, the story, what a bore. Divorced single mum to two girls meets a 27 year old guy. She's 40. Not in itself a problem, plenty of movies with older men and young girls and Reese is attractive. I could buy it if there was any chemistry whatsoever between the pair of them. (There's not). The guy has the presence of a cardboard cut out and the other two mates of his are similar in appeal, which is a problem, because for some unknown reason, this movie is just as much about the guys and a movie they want to produce as it is about Reese's Alice. While we are on that, Alice is such a mum in this. For geez sake did she have to be in mum jeans and frumpy blouses nearly every scene? There's some cloying sweetness around a school play and how the young guys pull through for Alice's 11 year old daughter (please), a brief will-she-won't-she with her jackass ex. Lots of fake smiling and euphoria around the so fun dinner table and this movie limps to a very unsatisfactory ending.
Nicki Marie
Super Reviewer
Home Again Quotes
There are no approved quotes yet for this movie.