Hollywood Canteen
(1944)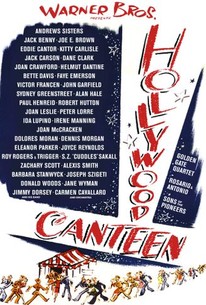 AUDIENCE SCORE
Critic Consensus: No consensus yet.
Movie Info
The West Coast's answer to Broadway's Stage Door Canteen, the Hollywood Canteen was created as a GI morale-booster by film stars Bette Davis and John Garfield. The Canteen was established so that Our Boys on leave in Tinseltown could have a good time with good food and good dancing -- and, as a bonus, rub shoulders with their favorite movie personalities, who functioned as waiters, chefs, busboys and dancing partners. Since the 1944 all-star flick Hollywood Canteen was produced by Warner Bros., it was only to be expected that the celebrities seen herein would consist mostly of Warner Bros. contract players. The frail plot concerns a soldier on medical leave (played by Robert Hutton) who falls in love with lovely leading lady Joan Leslie (played by Joan Leslie) while visiting the Canteen. Bette Davis and John Garfield are on hand to emcee the Canteen's variety acts, and to act as cupids for the Hutton/Leslie romance. The "supporting cast" includes the likes of The Andrews Sisters, Jack Benny, Joe E. Brown, Eddie Cantor, Sidney Greenstreet, Paul Henreid, Peter Lorre, Ida Lupino, Dennis Morgan, Roy Rogers, S.Z. Sakall, Barbara Stanwyck, and the Jimmy Dorsey and Carmen Cavallaro musical aggregations. Virtually everyone involved donated their salaries to the Canteen fund--even Jack Benny. As with most of these patriotic wartime star rallies, the results are a mixed bag: the best sequences include Benny's violin "duel" with Joseph Szigeti and Roy Rogers and the Sons of the Pioneers introducing Cole Porter's Don't Fence Me In. Hollywood Canteen won three Oscar nominations, more for its good intentions than its inherent excellence. Still, don't pass up the opportunity when this "movie star salad" shows up on cable TV.
Critic Reviews for Hollywood Canteen
All Critics (1) | Fresh (1) | Rotten (0)
The countless musical performances and celebrity cameos keep everything moving wonderfully, but it's the underlying tale that leaves us smiling wide.
Audience Reviews for Hollywood Canteen
meaningless as storytelling but a great chance to see almost every star on the warners lot in the 40's.
Hollywood Canteen Quotes
There are no approved quotes yet for this movie.