Hobo With a Shotgun
(2011)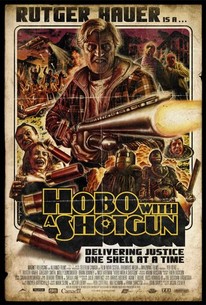 TOMATOMETER
AUDIENCE SCORE
Critic Consensus: It certainly isn't subtle -- or even terribly smart -- but as a gleefully gory homage to low-budget exploitation thrillers, Hobo with a Shotgun packs plenty of firepower.
Hobo With a Shotgun Photos
Movie Info
A train rolls into its final stop. From one of the freight cars jumps a weary-eyed transient with dreams of a fresh start in a new town. Instead, he lands smack-dab in the middle of an urban hellhole, a place where the cops are crooked and the underprivileged masses are treated like insignificant animals. This is a city where crime reigns supreme, and the man pulling the strings is known only as "The Drake." Along with his two cold-blooded and sadistic sons, Ivan and Slick, he rules with an iron fist, and nobody dares fuck with The Drake, especially not some hobo. Director Jason Eisener's blood-soaked return to the Sundance Film Festival is more than just a nod to the grindhouse flicks of the 1970s and '80s; he ups the ante in a major way, and Rutger Hauer's performance is a legendary display of brutal ass-kicking and meticulous name-taking that is not to be missed. -- (C) Magnet
News & Interviews for Hobo With a Shotgun
Critic Reviews for Hobo With a Shotgun
Audience Reviews for Hobo With a Shotgun
Pretty fucked up. But then again, it's got Rutger Hauer so I'm not complaining.
Curtis Lilly
Super Reviewer
Dear God. This movie.....as far as contemporary grindhouse films (and homages to them go), this is one of the better ones. It's also one of the sickest, most violent, and disturbing films I've seen in quite a while, perhaps ever. It's also really entertaining, sometimes quite fun, and actually pretty well made for what it is. It's a solid B movie, and that's also the grade it gets (for now). The story is pretty basic and concerns a nameless hobo who rides the rails into the ironically named city of Hopetown- an urban wasteland overrun by corruption, vileness, and degradation. He takes it upon himself to clean up the place using vigilante justice, with a shotgun as his primary tool. Rutger Hauer gives a solid performance as the Hobo, and actually delivers delivers some monologues that help elevate the film from being purely a trashy exploitation fest. Molly Dunsworth makes her film debut as a hooker with a heart of gold who teams up with the hobo after they help one another out. Brian Downey, Gregory Smith, and Nick Bateman all chew the scenery superbly as the megalomaniacial kingpin and two equally sick sons who all control the city. Despite being absolutely sick and disgusting ,the effects are really well done, hence their effectiveness. All of the violence is ridiculous and over the top (and almost non stop), but while most of it is supposed to be lighter in tone, some of it actually does become truly sick and disturbing tonally. Even then though, there's a lot of inventiveness to the kills, featuring some stuff I've never seen before, but kinda liked. The film overall is very stylish, featuring all kinds of garish lighting, a mish mash of various styles, and some truly odd set pieces (such as a twisted take on the Last Supper). This film knows what it is, and isn't trying to be high art. There's a bit of room for some subtext, and you wouldn't have to do a whole lot of reaching to make your case in that regard. This is mostly just supposed to be a demented homage to trashy 70s exploitation flicks, and in that regard, it is highly successful, and not only that, but it firmly earns its place amongst the films it is paying tribute to. If you are going to see this, and you should (at least once), just be prepared for some really messed up violence, revolting gore, and perhaps have a few drinks before hand.
Chris Weber
Super Reviewer
½
It takes a little time to understand what "Hobo With a Shotgun" is trying to do, but once it clicks, it becomes apparent that this is a brilliantly executed homage to a very peculiar period in pop culture history.
Sam Barnett
Super Reviewer
Hobo With a Shotgun Quotes
There are no approved quotes yet for this movie.