His Secret Life
(2001)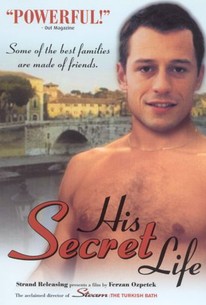 Movie Info
While going through her husband's belongings after he dies in a horrible accident, Antonia (Margherita Buy) makes the startling discovery that he had for years been carrying on an extramarital affair -- with a man. Shocked, angered, and fascinated, Antonia begins to learn more about her late husband's colorful other life, and in the process meets his lover, Michele (Stefano Accorsi). The two do not get along; Antonia, although eager to better understand her dead spouse, is angered by his betrayal, while Michele resents Antonia because he always felt his status in her husband's life was second to that of her. Despite their initial animosity, however, Antonia and Michele gradually realize that they need each other to cope with the loss of their shared loved one, and even develop an unconventional attraction to one another. His Secret Life, which was directed by Ferzan Ozpetek, a Turkish-born, naturalized Italian whose film makes use of his diverse cultural heritage, was screened at the 2002 Philadelphia International Gay and Lesbian Film Festival.
Critic Reviews for His Secret Life
Audience Reviews for His Secret Life
The symbolism is overt to the ending shot, but that doesn't mean the film is bad; in fact, the film is quite good. I had one technical critique about the film and that is it seems the entire film was shot on the same lens. Every shot goes out of focus in the background save two or three. The sets are lavish and well lit so I am confused as to why such an artistic approach was brought to the film. It works quite well, but the framing seems to indicate that the director sees the love between same-gendered couples as shallow in opposition to what he's trying to convey, which is the contrary. After watching it a few more times, I may understand the meaning behind this, but it seems lazy to shoot an entire film with one or two lenses. Other than that, I loved the lighting, the story, the camera blocking, and the performances. Many things I miss because I don't speak Italian, granted, but I guess my only other complaint or critique would be that there's such a deep rooted respect among the entire group but outright nobody treats anyone else with respect. That seemed strange to me, but I don't know the culture or the language, so I'll give it the benefit of the doubt that I'm missing something in context. I did love the dialogue between the main characters, however. It was very refreshing and . . . real.
Jason 123 D
Super Reviewer
Well..here's a movie that I totally did not plan on liking, but I did. Kind of alot. I instantly empathized with the wife, who was unaware of her husband's second life. I found this story of both the wife and the lover coming to terms with the false reality of their lives, and then come to value each other in ways never imaginable, very captivating. And, for some reason, I found Stefano Accorsi (the gay lover) very captivating, also. AND I thought the ending was very clever. Kudos!
Cynthia S.
Super Reviewer
Good performances and an interesting story are hampered somewhat from choppy continutity
His Secret Life Quotes
There are no approved quotes yet for this movie.