High Spirits
(1988)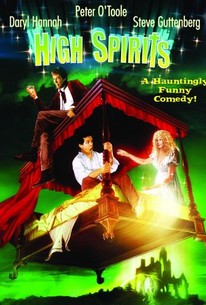 Movie Info
The owner of an Irish castle decides to attract visitors by falsely claiming that the building is haunted, only to have a pair of real ancestral spirits start causing trouble in this uneven attempt at fantasy-comedy. The story centers on Jack and Sharon (played by Steve Guttenberg and Beverly D'Angelo), naive American tourists who are initially unimpressed by the owner's attempts at fraud but become more interested in the real ghosts, Mary and Martin (played by Daryl Hannah and Liam Neeson). This is especially true for Jack, who falls in love with the beautiful Mary, despite several centuries' difference in their ages. After the film's initial unsuccessful release, people involved with the production blamed studio interference for damaging director Neil Jordan's original vision, although Jordan is better known as a director of quirky, dark dramas (Mona Lisa, The Crying Game, Interview With a Vampire, The Company of Wolves). For whatever reason, the end result was an awkward, forced comedy that more often than not falls flat, squandering a strong collection of talent.
Critic Reviews for High Spirits
Audience Reviews for High Spirits
Plunkett Castle in Ireland seeks to renovate its image and its fortunes by selling (to thrill-seeking Americans) the possibility that it may be a real haunted castle. This fantasy though stretches credulity by assuming that if one'll believe in ghosts, then one'll believe in anything, and so one incredible premise arrives, one after another, until it became too much to believe, and then too much to take. Neil Jordan should've quit when he was ahead. The actors work hard to sell the silliness.
Kevin M. Williams
Super Reviewer
So I'm betting this is a Neil Jordan film many haven't come across, a classically 80's production with a mix of your most well known 80's stars and some soon to be major stars. 80's golden boy Guttenberg is the lead here, alongside him are Beverly D'Angelo, Daryl Hannah, Jennifer Tilly, Peter Gallagher and Martin Ferrero, not forgetting British legends Peter O'Toole and Liz Smith with 'Fawlty Towers' star Connie Booth and Hollywood megastar Liam Neeson, hows that for a cast line up. The film is pretty spooktacular in a quirky 'Beetljuice' type fashion, crammed packed full of fun effects that admittedly now look pretty ropey but definitely part of the charm. Glorious location with the real Irish 'Dromore Castle' as the backdrop and a plot that focuses on Ireland's ghostly folklore in a family fun 'Addams Family' way. Some sequences are actually a little eerie though, the nuns with 'Jawa' like eyes, skeletal spectres flying around, various shots of the castle from afar and some nice interior corridor/room work makes you feel in the mood :) Lots of hokey set/model work which still just about works, some really nice corpse makeup in places, a good kooky soundtrack befitting Ireland and the supernatural element plus the odd good chuckle. Think of this as a slightly more grown up version of 'The Haunted Mansion', a nice sweet film with Daryl Hannah looking her best.
Phil Hubbs
Super Reviewer
Great little comedy/scare fest with a great cast!
Tim Salmons
Super Reviewer
High Spirits Quotes
There are no approved quotes yet for this movie.