High School High
(1996)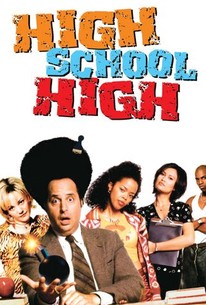 Movie Info
In this comic send-up of dramas set in urban schools (such as Lean on Me and Dangerous Minds), Jon Lovitz plays Richard Clark, a teacher who is persuaded to give up his position at Wellington Academy, an upscale private school (where the receptionist cheerfully answers calls with the question "Are you white?"), to take over a class at Marion Barry High School in Inner City, U.S.A. Marion Barry High is a far cry from the ivory-tower atmosphere of Wellington; the statue in the courtyard holds a crack pipe, the Michigan Militia sets up a booth for career day, and there's so much violence on campus that the school has its own graveyard; however, Clark is determined to reach his thick-headed charges, and he hopes to also make an impression on Victoria Chappell (Tia Carrere), a beautiful woman also on the teaching staff. Clark does battle with Evelyn Doyle (Louise Fletcher), the school's militaristic principal, in an effort to raise standards for the school's star straight-C students, and he finds that he's getting through to one of the school's toughest students, Grig (Mekhi Phifer). Screenwriters Pat Proft and David Zucker helped create The Naked Gun and its follow-ups. ~ Mark Deming, Rovi
Critic Reviews for High School High
Audience Reviews for High School High
½
Decent comedy, but never anything good, High School High is a fairly forgettable comedy film that uses stereotypes to create its humor. The film manages to be fun, but is never good because the script is poorly constructed and the gags get tiresome after a while. With that said, this film doesn't withstand multiple viewings. This is the type of comedy that doesn't stand the test of time. Most of the jokes here aren't that funny to begin with, and what is supposed to pass a humor, just isn't that funny to begin with. Overall this is a fun film with minor laughs throughout, but is never anything great. This film is quite forgettable in the long run, and it doesn't have the qualities necessary to be a very good comedy. As a whole, it's a decent film, but relies too much on stereotypes which just becomes tiresome. This film could have been much better and it had a good idea for its plot, but like I said too many stereotypes cloud this one from being a good. Memorable comedy and it just ends up being a decent film with a few laughs. Nonetheless it's a fun film, but is not that good. If you're looking for a decent comedy with minor laughs, then this is a must see. However keep in mind that this film is never anything good, simply a decent film. The film had potential of being much better than this, as it stands, it's funny, but lacks anything really memorable. This is the type of comedy to watch if you have nothing else better to do. Not a bad film, but not that good either. This film could have been much better.
Lucas Martins
Super Reviewer
I don't care what anyone says, this is a hilarious movie and one of the best of its year. Jon Lovitz: "Oh my God." Tia Carrere: "What is it?" Jon: "You're still a virgin." Tia: "No I'm not!" *cat screeches loudly. One of the funniest parts of a movie, ever.
Jason Owens
Super Reviewer
High School High Quotes
There are no approved quotes yet for this movie.