High Life
(2019)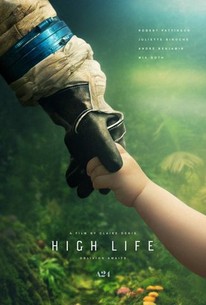 TOMATOMETER
AUDIENCE SCORE
Critic Consensus: High Life is as visually arresting as it is challenging, confounding, and ultimately rewarding - which is to say it's everything film fans expect from director Claire Denis.
Movie Info
Monte (Robert Pattinson) and his baby daughter are the last survivors of a damned and dangerous mission to the outer reaches of the solar system.The crew death-row inmates led by a doctor (Juliette Binoche) with sinister motives has vanished. As the mystery of what happened onboard the ship is unraveled, father and daughter must rely on each other to survive as they hurtle toward the oblivion of a black hole. A staggering and primal film about love and intimacy, suffused with anguished memories of a lost Earth, High Life is a haunting, thrilling achievement from visionary director Claire Denis
News & Interviews for High Life
Critic Reviews for High Life
Audience Reviews for High Life
½
Science fiction filmmaking has always been one of the more interesting genres to me, due to the fact that your stories can be filled with endless imagination. From amazing films like 2001: A Space Odyssey to even mediocre blockbusters in Interstellar, they're always filled with concepts that impress me. Even if a sci-fi movie hits theatres and has me incredibly against it by the time the credits roll, I still usually find myself pleased with the visual style or the ambition behind the story as a whole. In the case of High Life, I absolutely admired everything about this movie, but I probably won't be telling anyone to rush out and watch it. Following Monte, as he floats around in a shuttle drifting through space, he and his infant daughter try to survive, alone. With flashbacks to previous events and character interactions that explain their current situation, this is a film that begins very ambiguous, but ultimately becomes bogged down in exposition and overly complex narrative choices, that simply had me frustrated with the movie overall. The premise of the film itself and the visual style that they were able to pull off on a budget of just over 10 million dollars. I absolutely loved everything about this movie that revolved around Monte (who was played very well by Robert Pattinson) and his daughter. Their growth throughout the film and development within their characters easily felt like the most impressive aspect. As mentioned above, the flashbacks and overly explanatory sequences took me out of the film. Not to ruin what the flashbacks consist of, but it was far less interesting than the present day timeline and they balanced the present day with the past quite evenly in terms of the film's run time, which was disappointing to me. Although noticeably low-budget, this is a very nicely shot film with some very unique sci-fi visuals. I wasn't completely sucked in, because some of the sets and ways certain scenes played out felt slightly cheap in my opinion. I'm not usually someone who complains about this, because filmmaking is insanely hard to get right, especially on a low-budget, but something about the atmosphere of this movie felt slightly off to me. In the end, High Life is the pure example of a movie that's not made for everyone. Even if I loved this movie, I still wouldn't recommend it, simply because there are many things presented throughout this movie that will turn off many viewers. I admired my experience with this movie as a whole and would've given the filmmakers a round of applause if they were at the screening, but the movie just didn't click with me in the ways I had hoped for. A very solidly constructed movie that just didn't quite work for me.
SPACE CASE - My Review of HIGH LIFE (4 Stars) Have you ever played the Movie Director Match Game? Ok, it doesn't really exist, but it's that thing where you fill in these blanks: I wonder what it would be like if _____________ directed a ________. For example, I've often wondered what it would be like if David Fincher directed a romantic comedy, or if Mira Nair directed a musical. Ok, I'm sure most of you will think, "I don't have time for your nerdy nonsense", but it's fun on a dull Friday night. Somebody was clearly playing my imaginary game when they paired legendary French director Claire Denis with a science fiction film. Known for her visually arresting, tonally confounding films such as BEAU TRAVAIL from 1999, this maverick makes her English language debut at the age of 73 (yesterday was her birthday!) with HIGH LIFE, an outer space odyssey which may confuse fans as much as it thrills them. Count me as someone in both columns. I'm not sure what I saw, but I loved it just the same. Describing the story won't really give you a sense of what it's like to see the film, but its bare bones trace the story of a group of death row inmates on a mission to harvest energy from a black hole deep in outer space. We know from the opening scene that only Monte (Robert Pattinson) and his infant daughter Willow have survived as we see him jettisoning the dead from the ship. How the rest of the crew met their fates makes up the body of the story. Their leader, Dibs (Juliette Binoche), also a convict, wants a baby by artificial insemination, since sex on the ship is forbidden. Frequent masturbation using an orgasmatron-esque "Box" keeps the crew from going completely nuts, but baby or no baby, these folks know they're on a suicide mission. How they face certain oblivion remains a consistent theme throughout the film. Other crew members consist of Tcherny (Andrà (C) Benjamin ), a gentle soul who feels at home in the ship's greenhouse, Boyse (a stunning, haunting Mia Goth), an emotionally volatile, heartbreaking woman, and others who make up one of the more vivid crews since ALIEN. In fact, HIGH LIFE reminded me so much of ALIENâ¦except without the aliens, that is. It's moody, visceral, and is in no rush to cut to the chase. Scenes may not flow together in the traditional sense, but the images do. It has its knockout, violent set pieces, but I'll remember the existential stillness more than anything else. I've never seen a spaceship on film quite like this one, resembling a brown trash barge more than the futuristic shiny things we're so used to seeing in other films. Denis cares less about narrative coherence and more about how moments make you feel. I loved shots of the crew standing together staring out the window or a lone space glove floating in the coat room. You won't find a ticking clock pace here, as time doesn't seem to matter to Denis. Some may find the film to be a crashing bore, but I found it hypnotic, open to interpretation, and beautiful. I'm still not exactly sure what I saw, but I know I want to see it again. Due to its stately pace and dreamlike imagery, Denis gives you plenty of time to reflect on hope and whether one lives their life in the past, present or future. Denis finds great beauty in this theme, where despite certain death, there's always hope that something else may occur. Pattinson, who has impressed me so much with great performances in GOOD TIME, THE LOST CITY OF Z, and DAMSEL, does so much with so little here. His physicality and his ability to simultaneously convey menace and kindness makes this underwritten role so mesmerizing. Post-TWILIGHT, he and Kristen Stewart have developed into two of the finest actors working today. He even does his own singing in the end credits song, and it's a Radiohead-like earworm. The concept of a junky spaceship is nothing new, but Denis and her Production Designers manage to make this ship, in all its ugliness, something to remember. It's well past its due date like the Millennium Falcon and the Sulaco, but it's even more dingy and claustrophobic. The crew may not be on Earth anymore, but they're still imprisoned. How each manages to cope with their situations results in lots of bodily fluids, rape, horrible deaths, and in one case, a beautiful sense of peace. If you don't mind non-linear, slow as molasses, confusing, open-ended storytelling, you may want to go on this long, strange journey. At 73, Denis shows that you can still make a totally original, batshit crazy film, and that's something to celebrate.
Glenn Gaylord
Super Reviewer
Claire Denis is a dominatrix of atmosphere, and High Life is her twisted iteration of a Solaris-style space drama that's about nearly anything but space travel. Intertwining sexuality with sci-fi is a tall order, one that the recent Star Trek: Discovery has fallen on its face time and again with, but here it serves as the primary motivator of the horror element. I'm not trying to say ST:D isn't horrid in its own special way, but with High Life the off-putting mood is actually intentional. In a similar scenario to Interstellar, Robert Pattinson plays a single father sent on a special mission light years away from Earth on a quest to find hope for mankind that may or may not involve a black hole. But where Nolan's sci-fi epic tends to stretch the limits of incredulity for some weepy "love is the answer" catharsis, Denis uses this setup to explore the darker side of the human psyche, our animal desires, our need to control each other, and our fascination and drive towards death while simultaneously fostering life. While it isn't without a touching, humane counterbalance to the darkness, I was amazed at how provocative and unsettling it could get. Perhaps the minimal marketing for the film has given the impression that it's your standard Lost in Space on steroids, a popcorn-muncher à la Life, The Martian, or Passengers, but it's more like if Moon was repurposed as a feature-length Marilyn Manson video directed by Cronenberg. Don't believe me? Well Juliette Binoche plays a semen-harvesting, space-Nazi sex witch. I think I just found my new kink. It's always a pleasant surprise when Binoche pops up in wide release films, and this might be my favorite performance of hers since Three Colors: Blue - granted they're completely different films. But the real star of the show is Pattinson who carries most of the film with a baby screaming and crying in the background. His naturalistic performances with the baby are equal parts endearing and serendipitous, and they set a poignant tenderness to the onslaught of creepy medical sex procedures and predatory behavior. The father-daughter relationship keeps us grounded throughout the slow burn narrative amidst, like the less reserved or tasteful but equally in-your-face Event Horizon, an exploration of cabin-fever and isolation in an environment populated by misanthropic people forced into an altruistic symbiosis. There's a really awful metaphor between humans trying to find an answer to life in the vacuum of space while attempting to harness the power of a light-sucking gravity well, but I don't think I'm French enough to draw that beautiful, existential connection.
K Nife Churchkey
Super Reviewer
High Life Quotes
There are no approved quotes yet for this movie.