High and Low (Tengoku to jigoku)
(1963)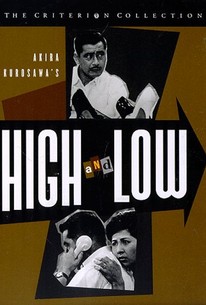 High and Low (Tengoku to jigoku) Photos
Movie Info
Toshirô Mifune is unforgettable as Kingo Gondo, a wealthy industrialist whose family becomes the target of a cold-blooded kidnapper in Akira Kurosawa's highly influential High and Low (Tengoku to jigoku).
News & Interviews for High and Low (Tengoku to jigoku)
Critic Reviews for High and Low (Tengoku to jigoku)
Audience Reviews for High and Low (Tengoku to jigoku)
Have to admit to some eye rolling when this was put on for me to watch. Initially looked like a very old movie and borefest, but I quickly had to eat my words! Very thought provoking and engrossing thriller. Is 143 minutes long, yet doesn't drag. Goes off in many directions and keeps you guessing. Fantastic.
Nicki Marie
Super Reviewer
A botched kidnapping can make for a taut thriller as Kurosawa proves in this fluid tale, years and years before CSI or any number of police procedurals (seemly broadcast hourly of late). The chase is the thing here, and Mifune's role, though central, is not the only game in town by any means. Very enjoyable watching the Toyko police go after their man.
Kevin M. Williams
Super Reviewer
Managed to hit the lows more than highs for me. The storyline wasn't gripping or interesting enough, although its main flaw being that for most of the time, it seemed as if the actors were supposed to look their part/character more rather than acting one. I'm no Kurosowa fan, but did enjoy Rashomon and had fair expectations from this one owing to that experience. Obviously being a Kurosowa flick didn't help any in sitting through this 140+ minutes long dramatic thriller.
familiar stranger
Super Reviewer
High and Low (Tengoku to jigoku) Quotes
There are no approved quotes yet for this movie.