Hercules
(1997)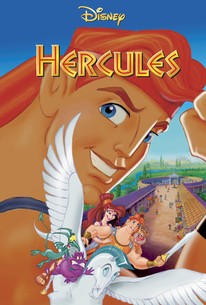 TOMATOMETER
AUDIENCE SCORE
Critic Consensus: Fast-paced and packed with dozens of pop culture references, Hercules might not measure up with the true classics of the Disney pantheon, but it's still plenty of fun.
Movie Info
Disney's animation team dipped into the rich well of ancient mythology for this musical comedy. The son of Greek gods Zeus (voice of Rip Torn) and Hera (Samantha Eggar), Hercules (voice of Josh Keaton) is stolen as a boy by the minions of Hades (voice of James Woods), lord of the underworld. Forced to live among humans, Hercules is turned into a half-god and half-mortal after drinking a forbidden potion brewed by Hades' right hand men, Pain (voice of Bob Goldthwait) and Panic (voice of Matt Frewer). Now Hercules has the remarkable strength of a god, but is trapped in the body of a human, and before he learns how to use his power properly he goes through a typically adolescent awkward period. In order to become a god and return to his home on Mount Olympus, Hercules must prove himself a true hero on Earth. With the assistance of Philotes (voice of Danny De Vito), a plucky satyr known as "Phil," the grown-up Hercules (voice of Tate Donovan) learns to use his strength to his advantage and becomes a famous and benevolent protector of those around him, successfully battling a variety of gods and monsters. However, Hades, wanting to cut Hercules down to size, sends his secret weapon after him -- Megara (voice of Susan Egan), a seductively beautiful woman under Hades' control, who is to win Hercules' heart and render him helpless against the forces of the underworld. Acclaimed British cartoonist Gerald Scarfe served as production designer for this project, while Alan Menken wrote the musical score. Incidentally, for the Spanish language version of the film, Latin pop singer Ricky Martin provided the singing voice of Hercules, two years before he became a chart-topping sensation in America with his hit single "Livin' la Vida Loca."
News & Interviews for Hercules
Critic Reviews for Hercules
Audience Reviews for Hercules
Now I know a lot of people are indifferent to this movie and either really love this movie or really hate it. Me personally I love it. For a couple reasons, first the villain, Hades is my favorite Disney villain ever and one of my alll time favorite villains, and that is mainly due to how James Woods plays him. He doesn't sound evil, I always thought he sounded like a lawyer or agent which I find kind of interesting. Next the animation, this film has probably the most colorful and interesting animation I've seen in a Disney film, which is understandable seeing how the animation was lead and handled by Gerald Scarfe who did the animation for Pink Floyd's the Wall and he does a fantastic job at doing this animation, my favorite being his design of the Hydra in the film. Also I really do enjoy the music and comedy in the film for as weird as the musical choice of Gospel is for a movie about ancient greece.
Michael Edwards
Super Reviewer
Disney saw another franchise opportunity in Greek myth and, using cues learned from pop culture quick riff artist Robin Williams in Aladdin, endeavors to set it off, borrowing heavily from the Superman origin tale. Insert random love interest and voila! Character actors James Woods and Danny DeVito very nearly move the light idea into heavyweight contender status. Entertaining but often too strident.
Kevin M. Williams
Super Reviewer
½
It is irritating enough that they alter most of the original legend just for the sake of doing so, but the real problem here is that the jokes and pop references to modern times and American culture are far from smart and get tired fast, with the third act being a silly, unexciting mess.
Carlos Magalhães
Super Reviewer
Hercules Quotes
There are no approved quotes yet for this movie.