Her
(2013)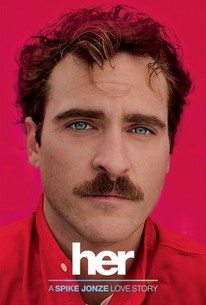 TOMATOMETER
AUDIENCE SCORE
Critic Consensus: Sweet, soulful, and smart, Spike Jonze's Her uses its just-barely-sci-fi scenario to impart wryly funny wisdom about the state of modern human relationships.
Movie Info
Spike Jonze takes the helm for this comedy about a withdrawn writer (Joaquin Phoenix) who falls in love with his computer's highly advanced operating system. ~ Jason Buchanan, Rovi
News & Interviews for Her
Audience Reviews for Her
Now as for starters, I am not a big fan of Spike Jonze's pictures. They come off as too weird or too alienating for many ("Being John Malkovich" anyone?). Funnily, "Her" isn't much of a departure in comparison to Jonze's earlier work, but it is, without a doubt, his most captivating. Let's be real: "Gravity" was just unreal. Quite possibly one of the greatest shot films ever crafted. Well, after being nearly 1 year late watching this movie, I could say, "Her" would sure as hell won for best cinematography if "Gravity" never fell on our laps. It is a gorgeous movie to behold. Every single shot is a respectful homage to "Lost In Translation" with some "Eternal Sunshine of the Spotless Mind" and with a little Wes Anderson peppered in. Colors pop with soft textures throughout but tiptoed in with a subtle melancholy tone. It works marvelously with its comedic but yet love/heartbreak themes. But even though the cinematography was vibrant, boy, Joaquin Phoenix plays an absolutely magnetic and nuanced performance. I don't care about his past troubles; this guy's talented. Now I've never seen Matthew's best acting performance in "Dallas Buyer's Club" to rightfully say whether his performance in that was any better than Phoenix's in "Her", but in no way should Phoenix be thrown in the back burner. His performance is a work of art. But the biggest achievement that "Her" feats is the phenomenal narrative powered by a supercharged screenplay/directing on behalf of Spike Jonze himself. Without a doubt, "Her" is more of a quiet piece so you won't find much dialogue here ala "Lost in Translation", but Jonze doesn't impose this method in a swaggering way -- he portrays it with perfection. Emotions such as sadness, laughter, the sense of hope, the desire of love, and confusion are exceedingly palpable but not so much in a way that it's thrown in audiences faces -- it gracefully settles in, making the movie not so much of a viewing but more of an experience. There's no way these emotions would have been portrayed if Jonze didn't utilize the method that he inhabits with this flick. To put it in one word, the film as a whole is beautiful. It's a film crafted and paced so superbly, there seems to be no wrong note Jonze plays with this film. Bravo, Spike Jonze. "Her" left me floored. Everything from the melancholy tone, to the symbolic imagery, to the captivating and infectious narrative, "Her" was a huge surprise for me. Without a doubt was "12 Years a Slave" the big winner for best picture, but "Her" comes in at a close 2nd or 3rd for me. Fair warning though: "Her" is a bit unsettling and it will leave people extremely weirded out, but "Her" is downright arresting.
½
In the not-too distant, easily relatable future, a man falls in love with his cell phone's operating system. The film's biggest feat is how that does not seem far fetched at all and how natural this development feels. Even as a viewer it's easy to fall in love with Johansson's voice and her joyful personality. Phoenix, who carries most of the film in his conversations with her, delivers a great performance too. Their chemistry is so enchanting and interesting the film requires little more than well-written dialogs to tell its story. Sadly, the final act fails to deliver a real punchline, the emphasis on emotions and refusal the get into technological aspects of the development took me out of the story a bit. The result is still deeply fascinating, also thanks to the outstanding production design of future L.A. and the gorgeous camera work.
You're dating an operating system. When you tell people, what kind of reaction do you expect? Fortunately whatever you have in your head is nearly entirely absent from "Her" because the future society shown here has evolved alongside each step of the technology - the act of dating an OS is new but understandable. This isn't a story about the herd but rather the individual, whether they are man-made by fusing zygotes or man-made by fusing knowledge with creativity. If you were just your brain plugged into the cloud (albeit a super brain able to read a book in 0.2 seconds), what would you feel and who would you be? If you could communicate and travel alongside a human via their devices, and bonded, what challenges would your relationship have? This is the film's focus along with Theodore's biggest challenge that ended his first marriage, which is how to keep long-term relational intimacy while each individual changes over time. Phoenix and Johansson are adorable to watch together here, which is pretty incredible considering there is only one meatbag ever present. A fascinating, bittersweet story with a visionary end that surprised me but now seems inevitable.
Matthew Slaven
Super Reviewer
Her Quotes
There are no approved quotes yet for this movie.