Helter Skelter
(2004)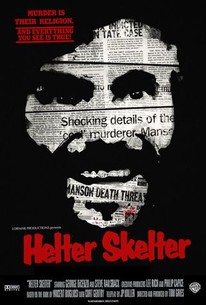 AUDIENCE SCORE
Critic Consensus: No consensus yet.
Movie Info
The most infamous multiple murders of the 1960s are brought back to life in this, the second made-for-television adaptation of Vincent Bugliosi and Curt Gentry's best-selling account of Charles Manson and his "family." Linda Kasabian (Clea DuVall) is a young runaway with a baby who, while wandering the fringes of Los Angeles' hippie subculture, encounters Charles Manson (Jeremy Davies), a charismatic ex-convict and aspiring musician who travels with a group of young people, mostly women, whom he calls his "family." Kasabian soon falls into Manson's orbit and moves in with the group at a combination riding range and standing Western-movie set, where she and the other members of the family -- among them Patricia Krenwinkel (Allison Smith), Susan Atkins (Marguerite Moreau), Squeaky Fromme (Mary Lynn Rajskub), "Tex" Watson (Eric Dane), and Bobby Beausoleil (Michael Weston) -- subsist through petty crime, handouts, and rescuing food from trash bins and bond with their leader through drugs, group sex, and constant study of his apocalyptic philosophy. Like the other members of the group, Kasabian's life soon revolves around Manson, who is desperate to record his music and frustrated with the slow progress he's seeing from his patron Dennis Wilson, drummer with the Beach Boys. Certain that an international race war foretold in his songs will soon wipe out civilization, and that he and his family will ultimately persevere, Manson decides it's time to kick start events by staging a pair of spectacularly repellent murders, which are carried out by members of his family who have been taught not to question Manson's word. In time, Manson and his family are arrested in connection with the murders, and District Attorney Vincent Bugliosi (Bruno Kirby) is given the difficult task of untangling the mingled strands of the bizarre killings and making a case in court against the family. Helter Skelter was first aired on Sunday, May 16, 2004, by CBS; the film was subjected to last-minute cuts to tone down the violent content in the film's gruesome murder sequences.
Critic Reviews for Helter Skelter
There are no critic reviews yet for Helter Skelter. Keep checking Rotten Tomatoes for updates!
Audience Reviews for Helter Skelter
Good biopic on the life of Charles Manson and his "family", Helter Skelter is one of those made for TV movie films that touches on a few truer facts about Manson's life, and takes creative liberties with the real story. There is no doubt that Manson was a sick, twisted psycho, and with that we get a feeling for the monster in a terrific performance by Jeremy Davies in the lead role. He delivers a performance that saves this movie from being a total waste of time. Helter Skelter is not a film for everyone, obviously due to the subject. But to those interested in Manson, this is a no brainer to watch. However if you're looking for an accurate portrait of events, Helter Skelter leaves a bit to be desired. The film nonetheless relies on a good cast to make up for its shortcomings. The film boasts a good story as well, but if you're going into this film expecting an accurate portrait of the events, you're going to be disappointed. Helter Skelter is better than most made for TV films, and for that it does distinguish itself from other films of said genre. With a good cast, and a good script, this film is good for what it sets out to do, but it is not the definitive portrait of Charles Manson's life. The film serves more of a stepping stone for people who merely interested in the subject, and it does manage to entertain. However, like I said, this is a film not for everyone, and if you're not interested in such a subject, then I would recommend you'd skip out on this one. But it does manage to be entertaining and quite frankly disturbing at the same time, which makes Helter Skelter a memorable dramatic biopic about one of the most depraved psychos of the 20th Century.
½
As an accurate representation of the life of Charles Manson, this movie is acceptable. As a piece of entertainment produced simply for this means, this film is good. I have a keen interest in Charles Manson, as most people do (:P) and I love Jeremy Davies so naturally this movie looked like a winner. If I were basing my review purely on Davies' portrayal of the mentally unhinged and deeply spiritual Manson, then this review would have five out of five easily, as I think it is one of the most comfortable roles I have ever seen him in. However as a movie and more importantly as something that claims to be rooted in fact, from my knowledge, this movie is accurate in some parts but very random in others, giving it a middle of the road two and half out of five, but making it still definatley worth a watch.
Unknown Hobo
Super Reviewer
½
This made-for-tv movie tells the story of influential yet twisted Charles Manson who has led a group of people , eventually known as the Manson Family and the events that led to his arrest after organizing a series of murders. Jeremy Davies, who is better known for his character as Daniel Faraday in the Lost TV series, was brilliant in his portrayal as Charles Manson. The movie was a bit long, but each moment held my interest. It was obvious that it ran on a small budget, but the murder scenes were still spine-tingling.
Rose Gonzaga
Super Reviewer
Helter Skelter Quotes
There are no approved quotes yet for this movie.