Hellzapoppin'
(1941)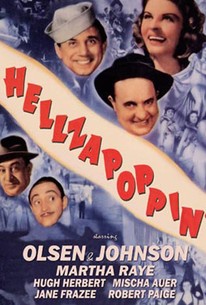 AUDIENCE SCORE
Critic Consensus: No consensus yet.
Movie Info
Hellzapoppin' is the film version of the "anything goes" Broadway hit starring Ole Olsen and Chic Johnson. The original production was part musical comedy, part "blackout" revue, with wild sight gags, zany props, audience participation sequences, dirty jokes, and never-ending gunshots. There was no plot, and in fact no two performances were exactly alike. When Hellzapoppin' was optioned by Universal, the original intention was to film the play as it stood (minus the more ribald one-liners), but the studio got cold feet and grafted on a conventional plot and romantic interest. The film's story concerns a musical show being staged at a fancy estate, and the romantic triangle of the show's producer (Robert Paige), the wealthy girl who lives at the estate (Jane Frazee), and the girl's erstwhile fiance (Lewis Howard). The show's stars are Olsen, Johnson, and Martha Raye. Martha is mistaken for the wealthy girl by a penniless Russian aristocrat (Mischa Auer), and the entire proceedings are "investigated" by a goofy private detective (Hugh Herbert). Olsen and Johnson are thus reduced to supporting players in their own film, but when they do manage to command the screen, the results are hilarious. The best moments range from a throwaway gag about Citizen Kane (Johnson finds a sled marked "Rosebud" and mutters "I thought they burned that!") to the more elaborate special-effects routines involving the mixed-up projectionist (Shemp Howard) who's ostensibly running Hellzapoppin for the benefit of the film audience. While the movie version fails to completely capture the spirit of the original play (except in a bizarre opening sequence), and the finale is a major disappointment, Hellzapoppin remains one of the few sustained filmic examples of the "nut humor" exemplified by Olsen and Johnson.
Critic Reviews for Hellzapoppin'
Audience Reviews for Hellzapoppin'
you've never seen anything like it. crazier than the marx brothers and that is saying something
Stella Dallas
Super Reviewer
Imagine Night at the Opera meets Airplane meets Day and Night. This movie is literally one gag after another, loosely strung together by a plot. And for no reason at all, Frankenstein turns up near the end.
Ken Stachnik
Super Reviewer
Hellzapoppin' Quotes
There are no approved quotes yet for this movie.